2022 Highlights
With 2022 coming to a close, we thank you for your incredible support this year! Simply put, we couldn't be successful without you. From all of your friends at the Zoo, we wish you all the best 2023 has to offer. Now it's time to take a look back at the great things this year brought…
---
January
PGF Semaphore "Wave"
In January, we shared a Panamanian golden frog adaptation rarely captured on film. This "hand waving" is known as semaphore, and is seen in only a few frog species. PGFs use it to attract mates or "wave off" other males that encroach on their territory. Since they live near streams, this physical movement is useful when the rushing water drowns out vocalizations.
---
February
Black Bear Fieldwork
We team up with many local wildlife organizations to help perform fieldwork and research for native species right here in Maryland—like wild black bears. Throughout the year, the Maryland Department of Natural Resources (DNR) wildlife biologists track, monitor, and manage the black bear population in Maryland. Zoo staff join the effort each spring season to help perform health checks on sows and their newly birthed cubs. The bears are examined, weighed, and measured to help ensure the population is a healthy one.
---
March
The Great Penguin Bake Off
In March we held a competition like no other, with the sweetest prize of all – naming an endangered African penguin chick! All of the chicks were being named after desserts, so we cooked up a competition and invited local Baltimore sweet shops to create delicious designs honoring this amazing species.
---
April
First Internation Fieldwork Trip Since COVID-19
In April, our Curator of Reptiles and Amphibians, Kevin Barrett, completed the Zoo's first international fieldwork trip since COVID-19! He traveled to Panama to assist our conservation partners, EVACC Foundation, with Panamanian golden frog research. This work helps to pave the way for future reintroductions of critically endangered PGFs into the wild.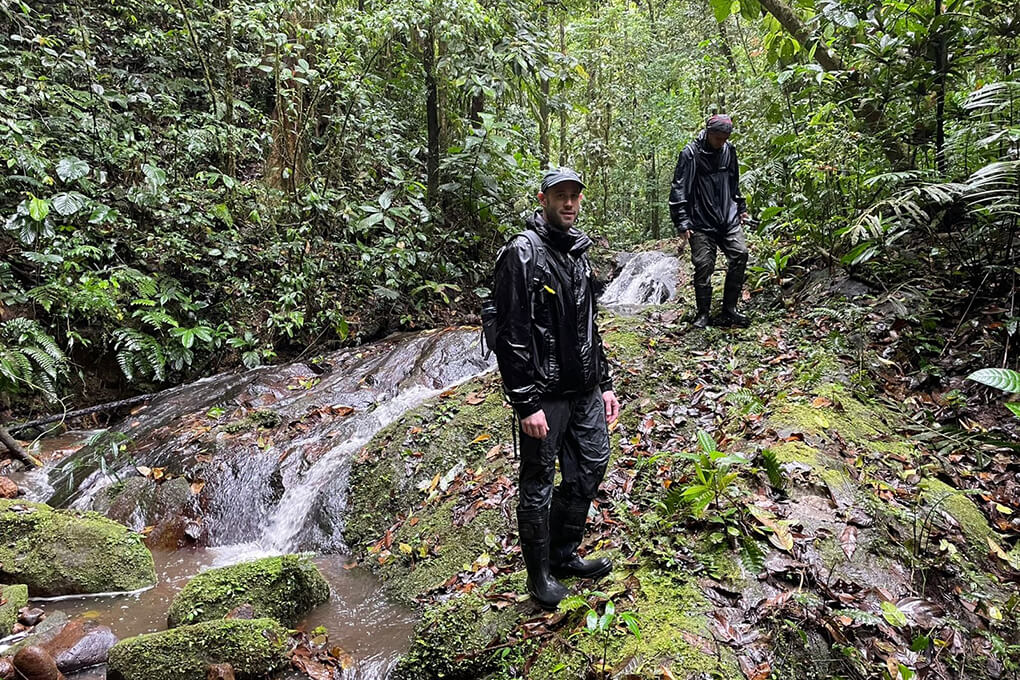 ---
May
DINOSAURS Roar into the Zoo
In May, we opened our first limited exhibition! Zoo visitors traveled through ancient woods filled with roaring, rustling dinosaurs. Called DINOSAURS: Explore the Prehistoric Forest, the exhibit featured dinosaurs created by Dino Don Inc., one of the world's leading makers of full-sized, robotic dinosaurs.
---
June
Bat Cave Renovation and 150 New Bats
In June, we renovated the bat cave in preparation for 150 new arrivals with extensive cleaning, improved lighting, and the installation of new viewing glass. This more than quadrupled our population of Seba's short-tailed bats to our existing colony of 30.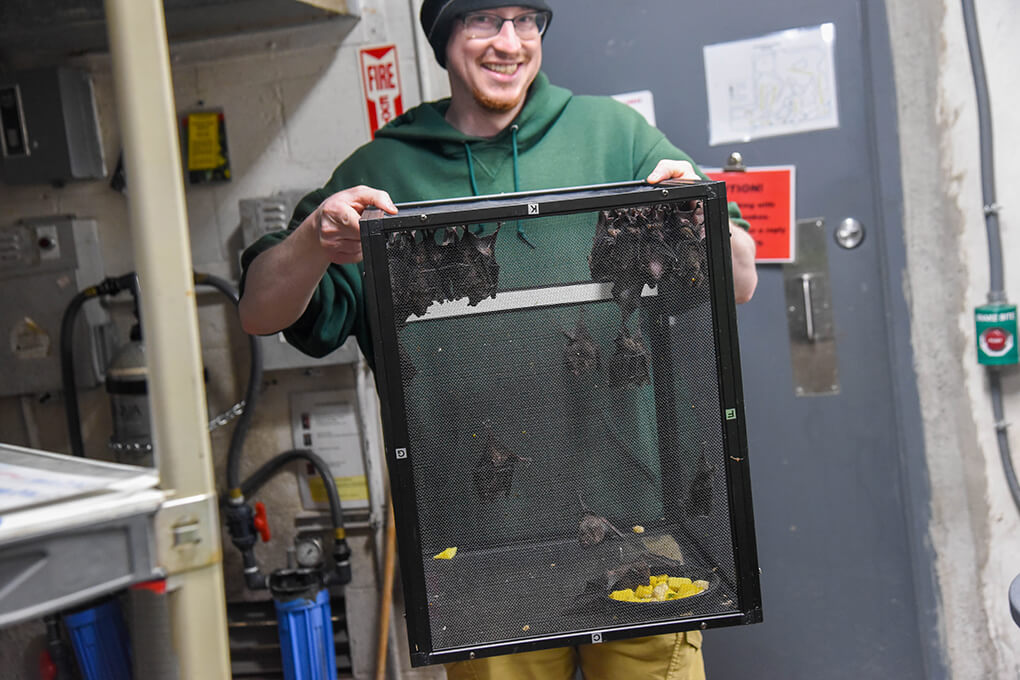 ---
July
New Main Entrance Sign
In July, a giant new sign was placed at the front of the Zoo. We love having visitors take and share selfies with our giant stacked logo – it's the perfect photo op!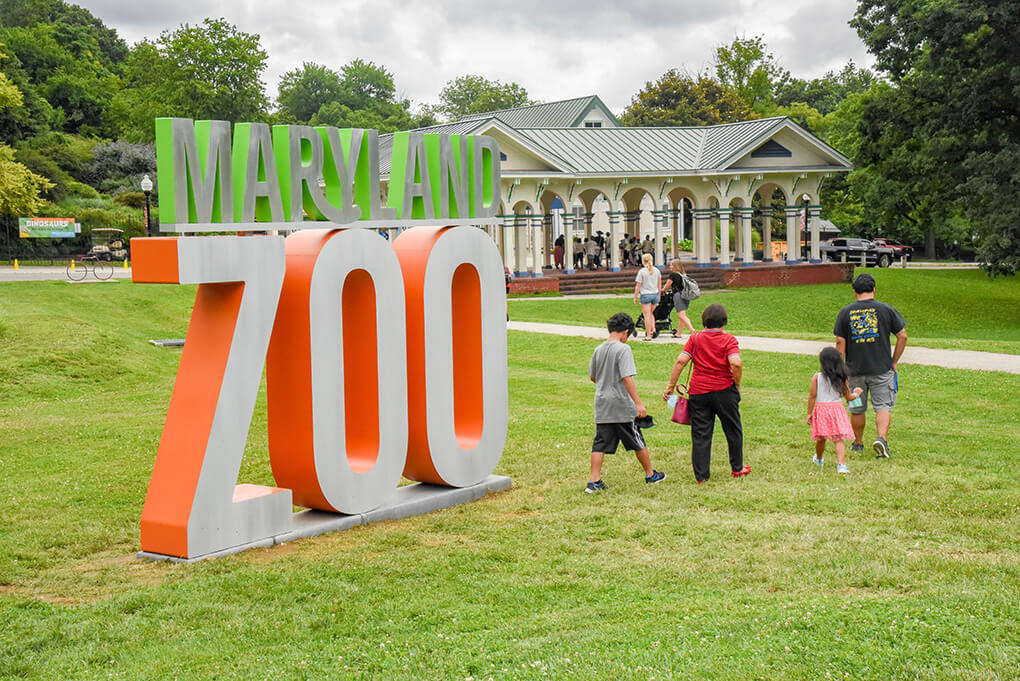 ---
August
Unveiling a New Master Plan
In August, we released a new strategic Master Plan, the culmination of an inclusive, multi-year process that establishes a clear vision for the Zoo's future and will guide the institution's growth and development into the next decade and beyond!
---
September
Maryland Zoo Hosts Zoo Day
On September 1st, we were excited to host 2,300 zoo and aquarium professionals from around the world. The annual conference of the Association of Zoos & Aquariums, held in Baltimore for the first time since the 1970s, culminated in a full day of activities at the Zoo.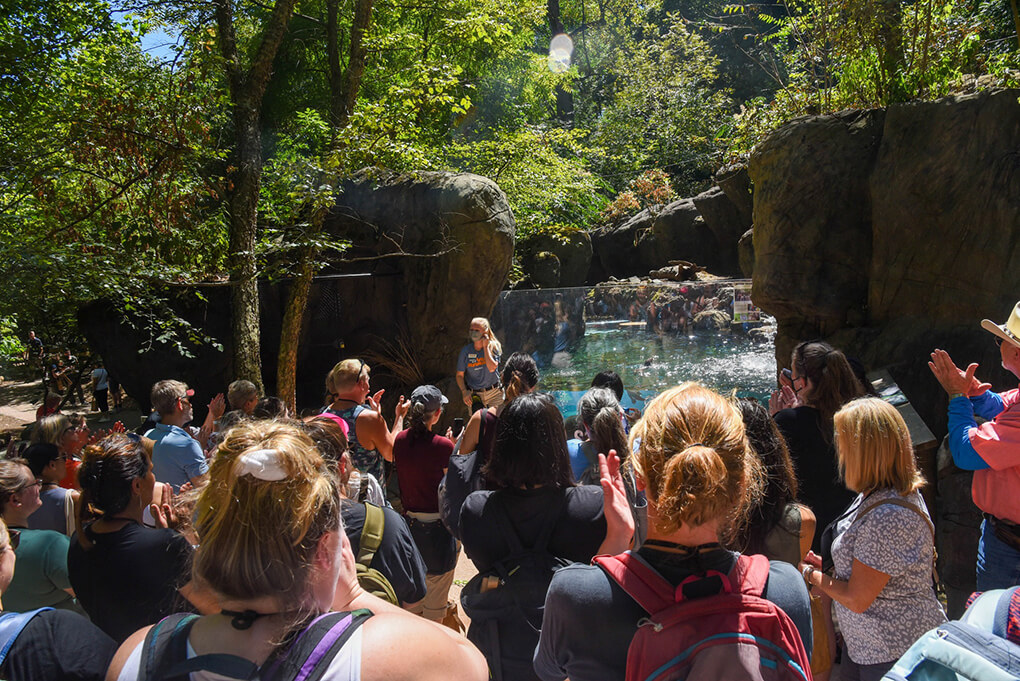 ---
October
Fieldwork in Bolivia
In October, Dr. Ellen Bronson, the Zoo's Sr. Director of Animal Health, Conservation, and Research, shared her fascinating, first-person account of a rapid-response conservation effort to save endangered Bolivian river dolphins. She made her second dolphin rescue trip to Bolivia in August to relocate a pod of dolphins that swam into a shallow irrigation ditch and became trapped as the water receded.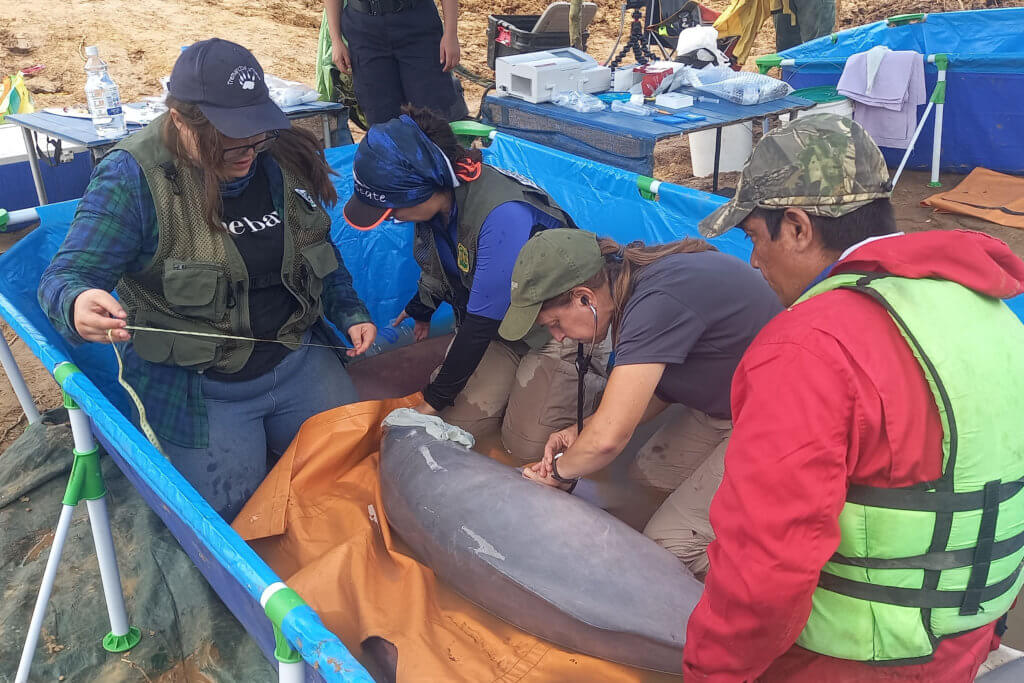 ---
November
Raising Wood Turtles For Release Into the Wild
In November, we shared that we are raising endangered wood turtles that, sometime in 2023, will be released into the forests of western Maryland! These six hatchlings will live at the Zoo until they are large enough to be released in the wild.
---
December
Penguin Chick Naming Contest Reveal
This fall, voters got to choose among three Italian food-themed names for a newly hatched African penguin chick: Mozzarella, Limoncello, or Ravioli. After a tight competition with more than 4,400 votes tallied, we were pleased to announce the winning name in December: Ravioli!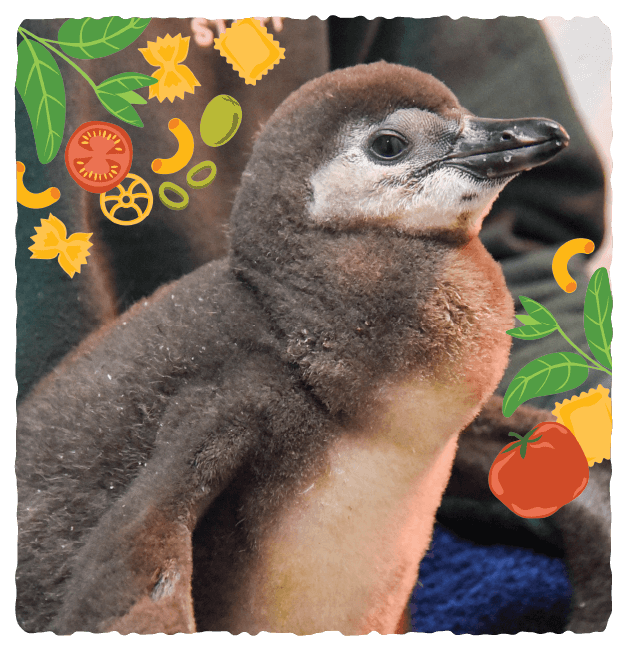 ---
Your support is as important today as it has ever been, and we hope you will make a special, year-end tax-deductible donation before 2022 is over!