Currently, we need volunteers for:
BREW AT THE ZOO: MAY 27 & 28
Volunteers will help check guests in at the event or pour drinks (21+) at the Zoo's popular beer festival fundraiser.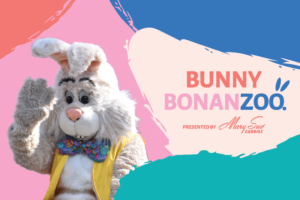 BUNNY BONANZOO: APRIL 7 & 8
Volunteers will help to run children's games including the egg hunt and give out candy.
---
About Volunteering
Every year, hundreds of volunteers give their time, energy, and enthusiasm to help us accomplish the important work of conserving wildlife and wild places. Volunteers can be found throughout the Zoo, behind the scenes and with our visitors. Whether you're looking for a day of meaningful service or a lifetime relationship, you can be an important part of our family! The vast majority of our adult volunteers work directly as educators, greeters, animal contact aides, and more.
Selection and training for these positions takes place only in late winter and early spring, in order to get our new classes ready in time for the rush of seasonal visitors. Other positions have deadlines as well, based on school calendars, Zoo needs, or other factors. Please check the opportunity directory for your preferred assignment, or contact us for information about when we might be adding new volunteers in a specific program.
Please note: We do not arrange job shadows. Also, the Maryland Zoo does not offer court-ordered community service.
---
Benefits of volunteering at the Zoo:
Free Zoo admission (for active volunteers)
Free Zoo membership (for higher levels of service)
Discount on purchases in Zoo gift shops
Volunteer newsletter with wildlife news and Maryland Zoo happenings
Invitations to Zoo Volunteer recognition events, field trips, and lectures
---
Volunteer qualifications:
Friendly and outgoing
Genuine interest in conservation of wildlife and wild places
Ready to make and fulfill a regular hours commitment
At least 18 years of age (for most positions) or 14-17 for Zoo teen opportunities
---
Questions? Contact the Volunteer Department at volunteers@marylandzoo.org or 443-552-5266. Interested in a Zoo career? Click here.