Want to have a small, intimate wedding ceremony?
Looking to run away and elope due to the complexities of arranging the perfect wedding? Look no further! Our Elopement Package makes it easy as we take care of all of the details for you! Our staff and our unique location will ensure your special day is memorable.
Ceremony
Your wedding ceremony would take place at either the Zoo's Lakeside Pavilion, a private, serene setting with a spectacular waterfront view complete with a fountain, or on our Mansion House Porch, a truly elegant setting for special occasions. Large windows on all sides of the stately, wrap-around porch overlook Druid Hill Park and the older treed areas of the Zoo. One hour in total is included. Location would depend on seasonality and availability.
Officiant
The Officiant will guide you through the ceremony, so everything goes smoothly in a relaxed, intimate atmosphere, surrounded by your loved ones, family and friends.
By Maryland law, your ceremony must include your Statement of Intent (your "I do's") and your vows. Our Officiant will give you two ceremonies from which to choose. One is a short, civil ceremony. The other is a longer, yet simple and elegant, ceremony. In either case, you will also be given dozens of vows from which to choose, so you may select the vows that best represent you.
Following the ceremony, she will sign your marriage license (you must procure it from the Courthouse downtown at least 48 hours prior to the ceremony). The Officiant will return one copy of the license to the Courthouse, and keep one in her records as a backup. The number for the Baltimore City Courthouse is 410-333-3780. Link to Marriage License.
Flowers
Our florist will provide a hand-tied bridal bouquet to include ivory roses and seasonal flowers, finished with ivory ribbon and one boutonniere. Ask about including specific colored accent flowers. Bridesmaid's bouquet and additional boutonniere may be added at an additional charge of $68.00
Total Package Fee: $2000
Add On's
You may elect to include a photographer and a special Zoo guest to your wedding celebration!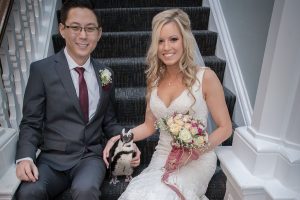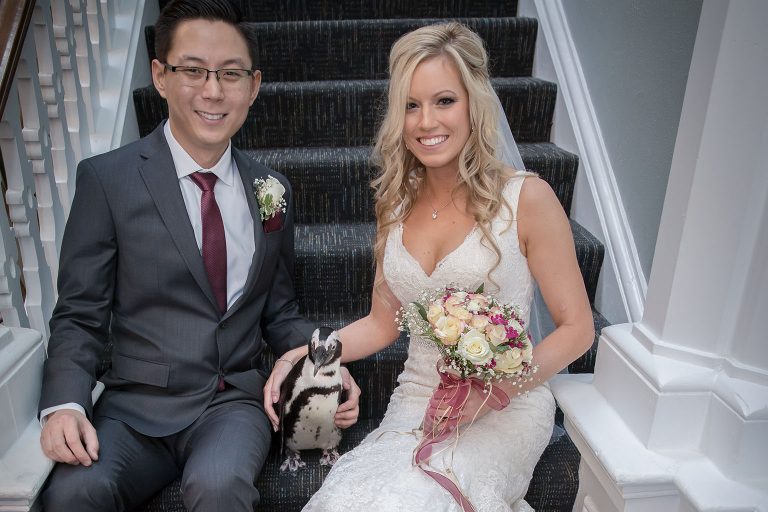 A professional wedding photographer will be available before, during and after your ceremony (one hour, total) to record your special memories. You will receive a compact disk with all of your images, which you may view and use at your leisure.
Add a penguin to your guest list! Our African Penguins act as ambassadors of the Zoo and can join you at your celebration.
Additional Fee: $1000 ($1500 if second hour is included)
A fabulous DJ to provide ceremony music, first dance and background music and for those who can't attend in person, extend your ceremony audience via Zoom. Includes a large screen so attendees can see those attending virtually.
Additional Fee: $500 ($750 if second hour is included)
Add an hour for a mini-reception to celebrate your marriage! Our Approved Caterers are all ready to discuss your menu and provide a scrumptious light meal.
---
Elopement Package Reservation Guidelines
For up to 20 people, including bride and groom

May be reserved a maximum of 90 days in advance of requested date

Based on availability of venue at time of request. Holiday dates may incur additional charges

Package fee includes one hour use of rental space. Any time over and above the included hour will be charged at $1700 per hour

An additional hour may be added to accommodate mini-reception

Package fee includes venue coordinator

Package fee does not include zoo admission, catering, rides, audio-visual equipment and/or additional zoo services

Must be paid in full with return of signed contract

Free Parking!
Marriage License
The City of Baltimore is the issuing authority for marriage licenses in Baltimore. The information below is provided as a service to our brides and grooms. Please contact the City Of Baltimore at the number below for more information.
The information provided here is accurate and complete to the best of our knowledge, but is beyond our control and is subject to change at any time.
Marriage License Information: (410) 333-3780
Location: Clarence Mitchell Courthouse Building, Marriage License Department, Room 628, 100 North Calvert Street, Baltimore, MD.
Hours: 8:30 AM – 4:00 PM
Who Must Appear: Bride-to-be or Groom-to-be
Minimum Age: 18 (16 with parental consent)
ID Required: Photo ID included Drivers License, Military ID, Passport, and your Birth Certificate if under age 22. You may also need both of your social security numbers.
Other Documents Required If Previously Married: Death Certificate or Divorce Decree
Blood Test Required: No
License Available: Maximum of 48 Hours after application is received.
Cost: $85 – Only cash is accepted.
Valid For: Six Months
Valid In: Baltimore City
---
Looking for suggested hotels, vendors, or catering? View our Private Events & Parties Resources.
Questions? Contact the Rentals Office at 443-552-5279 or email rentals@marylandzoo.org.