Meet and greet an endangered African penguin!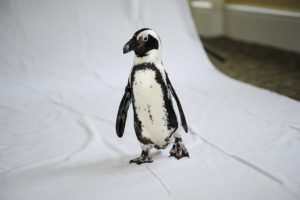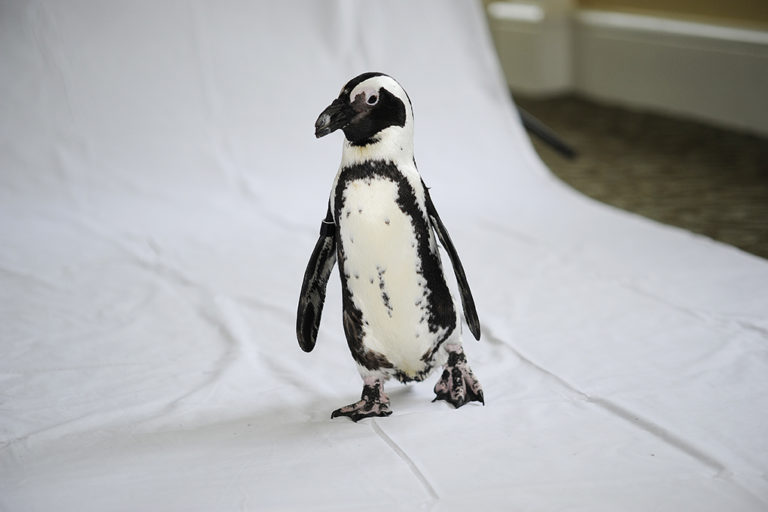 At Penguin Coast, you can watch penguins waddle, swim, dive, and eat in North America's largest African penguin colony. Want an even closer experience? Join us for a special Penguin Encounter! It's your chance to meet and greet some of the Zoo's endangered African penguins. Take part in an intimate, 20-30 minute tour with a guided keeper experience, special photo opportunities (think selfies), and up-close penguin interaction.
*Note: Penguin Encounters still include close encounters with penguins but have been slightly adjusted and are currently taking place inside the Penguin Education Center to allow for social distancing. Masks are required.
PENGUIN ENCOUNTER INFORMATION
Encounter Times:
March – DECEMBER:
Weekdays: 2pm only

Saturdays & Sundays: 11am & 2pm
January – February:
Mondays & Fridays: 2pm only

Saturdays & Sundays:

11:30am & 2pm
Encounter length:
Group Size:
No more than six (6) guests per encounter
---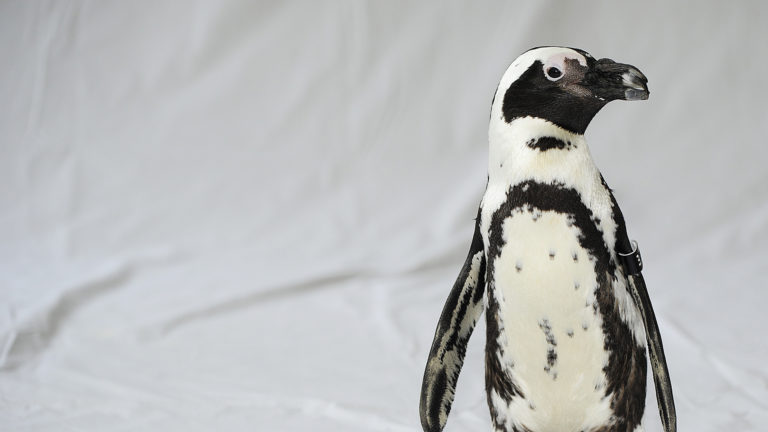 PENGUIN ENCOUNTER PRICES
Adults and children ages 5 & over:
$49 for Zoo Members
$59 for Non-members*
Children under 16 years of age must be accompanied by a ticketed adult on a 3 child:1 adult ratio.
Tickets:
One ticket required per guest.

Purchase online, in advance.
*Prices do not include Zoo admission. Zoo admission tickets are required for each tour attendee and must be purchased separately for non-Zoo members. If you are not a Zoo member, you must purchase admission tickets in advance. If you are a Zoo Member, you must make an online reservation for your date and an earlier entry time than your Penguin Encounter.
---
Zoo members, to receive your ticket discount you must first create an account on the Zoo's online store. Click below to register if you don't already have an account. Once you do, you'll automatically receive your Penguin Encounter discounts at checkout.
---
GIFT AN ENCOUNTER
Gift the chance to meet and greet endangered African penguins at the Zoo to someone special. Your Gift Penguin Encounter will include a digital confirmation with scheduling instructions to forward to your recipient. Guests will have one year from date of purchase to schedule their tour. If you would prefer that a printed certificate be mailed to your recipient, please email us at tickets@marylandzoo.org with the recipient's name, address, and your confirmation number.
***Please note that this is not the actual date and time of the tour. Once you purchase your Gift Penguin Encounter, you will receive a confirmation email with instructions to forward to your recipient on how to schedule the tour. The gift recipient will then need to call 443.992.4585 or email tickets@marylandzoo.org in order to choose a specific date and time for their encounter.
PENGUIN ENCOUNTER ADOPTION PACKAGE – $170*
Each Penguin Encounter Adoption Package includes:
Plush Penguin keepsake

Two (2) one-time-use Zoo tickets valid for one year

Two (2) one-time use Penguin Encounter Tour tickets valid for one year

Animal Adoption Certificate

A frameable photograph of one of the Zoo's penguins
*Includes Shipping & Handling
---
Important Guidelines & Information:
Scheduling –

Zoo Experience tickets are for the chosen date and time only. Zoo Experiences are non-transferrable and tickets cannot be used for a different date or time. Zoo Experiences are available on a first-come, first-served basis and fill up quickly. You may need to select another tour date and time if your preferred number of tickets is not available.

Additional Experience Guidelines –

Children under 5 years of age are not permitted for Zoo Experiences. Children under 16 years of age must be accompanied by a ticketed adult on a 3 child:1 adult ratio. You may share your experience with others.

Refunds –

Zoo Experience tickets cannot be returned or refunded.

Rescheduling –

Reservations may be changed up to 72-hours in advance of the scheduled experience and are subject to an Administrative Change Fee. Changes are not permitted within 72-hours of the scheduled experience. Contact us at tickets@marylandzoo.org or call 443-992-4585.

Arrival –

Zoo Experiences begin promptly at stated time. Once a Zoo Experience has begun, additional guests will not be permitted due to safety and tickets cannot be refunded or rescheduled due to lateness.

Dress –

Masks are required for all ages during the entirety of the Zoo Experience. Closed-toed shoes are recommended.

Accessibility –

Zoo Experiences can accommodate guests using wheelchairs; however, strollers are not permitted. Service animals are not permitted on Zoo Experiences. Please contact us at

tickets@marylandzoo.org

or 443-992-4585 with any accessibility needs in advance of your tour.

Cancellation –

Zoo Experiences are weather, staff and animal dependent. The Zoo will contact ticket holders with any changes or cancellations as soon as a decision has been made regarding the status. The Zoo reserves the right to cancel or end an experience for any reason, including guest behavior.
---
PENGUIN ENCOUNTER SPECIAL REQUESTS, NEEDS OR QUESTIONS?
Call 443-992-4585 from 10am-4pm daily or email tickets@marylandzoo.org.