Why ADOPT an animal?
It's a wild way to support the animals you care most about at the Maryland Zoo. 100% of proceeds from each adoption package support animal care, education programs and wildlife conservation for endangered and threatened species.
---
Featured Adoptions
WILLOW "KISS" ADOPTION PACKAGE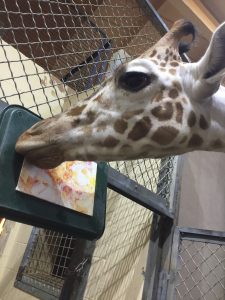 Each Willow "Kiss" Adoption Package includes:
5×7 Willow "Kiss" (Orginal – limited to 10, or Replica Print – limited to 100)
Plush keepsake giraffe
Two (2) general admission Zoo tickets valid for one year
Personalized Official Adoption Certificate
A Giraffe Fun Fact Sheet
A frameable photograph of Willow the giraffe
*Includes shipping & handling
Purchase Willow "Kiss" Original Package – $250
Purchase Willow "Kiss" Print Package – $100
---
Classic Adoptions

PLUSH & PASSES ADOPTION PACKAGES – $75*
Each Plush & Passes Adoption Package includes:
Plush keepsake of the animal you choose
Two (2) one-time-use Zoo tickets valid for one year
Personalized Official Animal Adoption Certificate
An Animal Fun Fact Sheet
A frameable photograph of your animal
*Includes shipping & handling
---
Adopt Rise & Conquer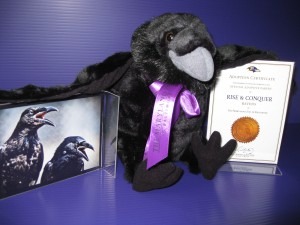 Animal Adoption is a fun and unique way to join the Super Bowl Champion Baltimore Ravens and The Maryland Zoo in Baltimore in celebrating wildlife conservation efforts. Create a special bond with the Zoo by becoming a proud raven parent. Your contribution supports the Zoo's animal care programs, and you will be able to see the results of your support in motion each and every time you visit the Zoo! Minimum Donation $35.
Benefits include: An Official Ravens Adoption Certificate, a customized Zoo Raven Plush (that when you squeeze it 'caws' and sounds like the birds) and a candid photo of Rise and Conquer PLUS, as a Rise and Conquer Parent, you will have the pride of being both a true Ravens fan, and avid animal supporter. Animal Adoptions also MAKE A GREAT GIFT! Thank you for supporting the ravens at The Maryland Zoo in Baltimore.
---
Is your adoption a gift?
Adoptions make great gifts for every animal lover. Simply select the 'gift' option at checkout and complete the online forms to let us know who will be receiving your animal adoption package.
---
Shipping your adoption
Shipping and handling are included in the cost of every adoption package. Adoptions can be shipped anywhere in the United States, however, currently we are unable to ship outside of the country. If you are interested purchasing from outside of the United States, please contact an adoption representative at 443.552.5281 for limited adoption options.
---
All donations raised through animal adoptions go directly toward the cost of caring for the animal you adopt. Currently, the Zoo is featuring the adoption packages shown above, but all Maryland Zoo animals are available for adoption. With the choice of any other Zoo resident, you will receive an official adoption certificate, picture of your animal and thank you letter from the Zoo. (Please note: we do not have plushes for any animals other than those currently listed above).
If you wish to adopt an animal from The Maryland Zoo in Baltimore that you do not see listed above, email membership@marylandzoo.org, and an adoption representative will be happy to assist you.