Why ADOPT an animal?
It's a wild way to support the animals you care most about at the Maryland Zoo. 100% of proceeds from each adoption package supports animal care, education programs, and wildlife conservation for endangered and threatened species.
Please note: Adoption orders must be placed by December 19th to guarantee arrival by Christmas.
---
Featured Adoptions
Limited Edition Otter Pup Adoption – $85
An all-paws-on-deck effort is taking place behind the scenes at the Zoo hospital. In late May, we received a call that an orphaned North American river otter pup was taken in by rangers at a Maryland State Park. The healthy female pup, Nora, received multiple feedings, daily vet checks, and otter-appropriate enrichment from our team until she was able to move to our river otter habitat.
Nora continues to flourish in the Maryland Wilderness section of the Zoo when she has been acclimating to her new surroundings, as well as male otter and new companion, Hudson. Proceeds from your adoption directly support her daily care.
Each premium package includes:
A frameable photograph of Nora the otter pup
Two (2) one-time-use Zoo tickets valid for one year*
Otter plush
Personalized official animal adoption certificate
An animal fun fact sheet
Free shipping & handling
---
Classic Adoptions – $85
Each Adoption Package includes:
Plush keepsake of the animal you choose
Two (2) one-time-use Zoo tickets valid for one year
Personalized Official Animal Adoption Certificate
Otter Adoption
Penguin Adoption
African Elephant Adoption
Cheetah Adoption
An Animal Fun Fact Sheet
A frameable photograph of your animal
Free shipping & handling
Giraffe Adoption
Chimpanzee Adoption
Lion Adoption
Grizzly Bear Adoption
---
Adopt Ravens Mascots Rise & Conquer

Rise & Conquer Adoption Package (Minimum Donation $45*)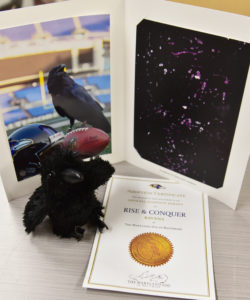 Animal adoption is a fun and unique way to join the Super Bowl Champion Baltimore Ravens and the Maryland Zoo in celebrating wildlife conservation efforts. Create a special bond with the Zoo by becoming a proud Rise & Conquer parent, and have the pride of being both a true Ravens fan and an avid animal supporter. Your contribution supports the Zoo's animal care programs, and you will be able to see the results of your support in motion each and every time you visit the Zoo. Thank you for your support!
Each Adoption Package includes:
7×5 Rise & Conquer replica footprint
An Official Ravens adoption certificate
A raven plush finger puppet
A candid photo of Rise or Conquer
*Includes shipping & handling
---
Adoption Info & FAQs
Shipping Your Adoption
Shipping and handling are included in the cost of every adoption package. Adoptions can be shipped anywhere in the United States, however, currently we are unable to ship outside of the country. If you are interested purchasing from outside of the United States, please contact an adoption representative at 443.552.5281 for limited adoption options.
Can I give an adoption as a gift?
Adoptions make great gifts for every animal lover! Simply select the 'gift' option at checkout and complete the online forms to let us know who will be receiving your animal adoption package.
Does my adoption purchase benefit animal care?
All donations raised through animal adoptions go directly toward the cost of caring for the animal you adopt.
Can I adopt a Zoo animal not shown above?
Currently, the Zoo is featuring the adoption packages shown above, but all Maryland Zoo animals are available for adoption. With the choice of any other Zoo resident, you will receive an official adoption certificate, picture of your animal and thank you letter from the Zoo. (Please note: we do not have plushes for any animals other than those currently listed above).
If you wish to adopt an animal from the Maryland Zoo that you do not see listed above, email membership@marylandzoo.org and an adoption representative will be happy to assist you.
---
Questions?
Email membership@marylandzoo.org and an adoption representative will be happy to assist you!