Breeding season is here again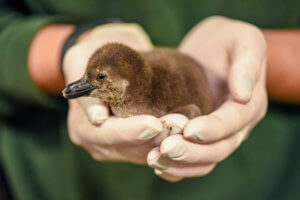 It's the most wonderful time of the year, and we're not talking about the holidays—it's African penguin breeding season! We've already had four tiny, fluffy, endangered chicks hatch at Penguin Coast, so (as many of you know and look forward to each year) it's time for the announcement of the annual naming theme!
This year, the penguin care team has selected Italian food as the naming theme for chicks hatched during the 2022-2023 season! Previous themes have included spices, gemstones, literary characters, and desserts.
Currently, four chicks have hatched. While the meatball-sized babies will remain with their parents and behind the scenes as they grow, we need your help now to celebrate the new arrivals!
---
Help us name an African penguin chick
The name options were selected by the Penguin Coast team members who are busy behind the scenes caring for the new hatchlings and the entire penguin colony of more than 90! Vote to choose the name of one of the first hatchlings.
Ravioli – a pasta with a filling enveloped in thin dough

Limoncello – a lemon-flavored liqueur
Mozzarella – a cheese of mild flavor and smooth texture
VOTING HAS CLOSED. THANKS FOR YOUR INPUT!
---
Breeding season background
Breeding season at Penguin Coast begins in mid-September and lasts until the end of February, mimicking the spring to summer breeding season for these endangered birds in their native South Africa. Penguin chicks hatch 38-42 days after the eggs are laid. Once each chick hatches, it is assigned an individual identification number, and each is named according to the theme once DNA tests reveal whether the chick is male or female.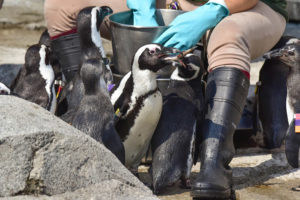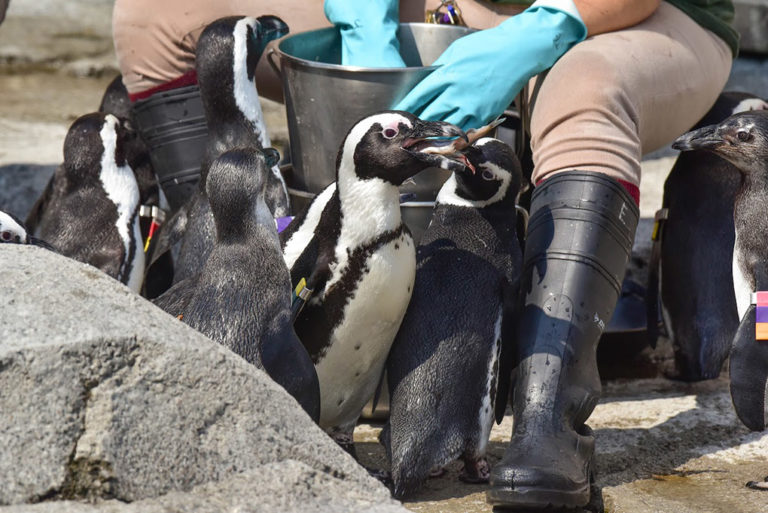 At Penguin Coast, chicks stay with their parents for about three weeks after they hatch and are fed regurgitated fish from their parents. During this time, the Penguin Coast animal care team and vets keep a close eye on the development of the chicks, weighing and measuring them every few days until they are three weeks old to make sure that the parents are properly caring for each chick.
When a chick is three weeks old, the keepers remove it from the nest, and start to teach the chick that they are the source of food. This step is critical as it will allow staff to provide long term care for the birds including daily feeding, regular health exams, and both routine and emergency medical care. Penguin breeding recommendations are made by the Association of Zoos and Aquariums' (AZA) African Penguin Species Survival Plan (SSP).
While the penguin chicks are not viewable to the public yet, juvenile and adult penguins can be seen at Penguin Coast.
---
Give for African penguins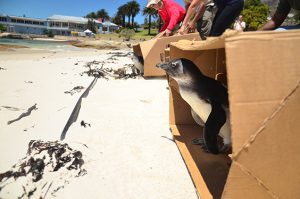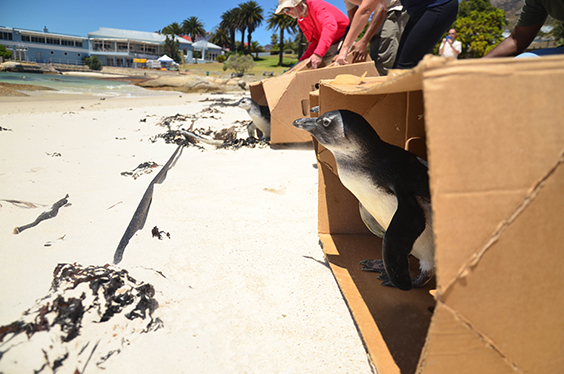 Over 1,000 African penguin chicks have hatched here over the past 50 years! Many of these penguins have helped establish new colonies at zoos and aquariums around the world. African penguins from the Zoo have moved to zoos and aquariums in 35 states and six countries including Canada, the Netherlands, Spain, Italy, Hungary, and South Africa.
Did you know? African penguins are endangered in the wild and some scientists believe they could become extinct in our lifetime. We are committed to finding ways to save these animals from extinction. If you'd like to help us help the penguins, please donate!