The Zoo's new comprehensive strategic plan will define and shape the country's third oldest zoo into the next decade.
August 23, 2022 (BALTIMORE, MD) – The Maryland Zoo in Baltimore today released a new strategic Master Plan, the culmination of an inclusive, multi-year process that establishes a clear vision for the Zoo's future and will guide the institution's growth and development into the next decade and beyond.
Under the plan, the Zoo will generate guest and member excitement with a mix of new exhibits, animal species, and upgrades to existing experiences. Behind the scenes, the plan will lead to improved staff areas, event spaces, and community engagement.
Each element of the plan reflects the Zoo's mission to engage people in the wonders of the living world through personal encounters with animals, fostering empathy and lifelong support for conservation of wildlife and wild places.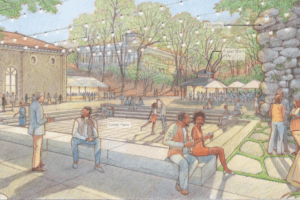 "The Maryland Zoo has done a phenomenal job creating new animal habitats and guest experiences since our last implementation plan in 2008," said Michael Aldrich, Chair of the Maryland Zoological Society. "But we can't rest on our laurels. We want to continue leading in the fields of animal care and conservation. To do that, we need to make sure we have first-rate facilities, and this plan will make that happen."
"Three key elements drive this Master Plan: (1) the care and conservation of animals; (2) the engagement and nurturing of our employees, volunteers, and guests; and (3) the construction of new habitats and facilities," said Kirby Fowler, Maryland Zoo President & CEO. "We want to add animal species and habitats, encourage people of all backgrounds to work and visit here, and open state-of-the-art facilities while caring for our historic campus."
"The Zoo came out of the pandemic shutdown in a strong position. I want to make sure we don't lose any momentum," Fowler said.
BACKGROUND
In 2020, the Zoo commissioned Stefansson Design & Consulting (SDC) to develop a plan that would define and shape the vision of the Zoo while complying with the latest accreditation standards of the Association of Zoos and Aquariums. Over the past 20 months, input was solicited from the Board of Trustees, staff, volunteers, and guests through surveys and multiple workshops.
VISION
The Master Plan sets forth a clear vision for how the Zoo will look and feel ten years from now: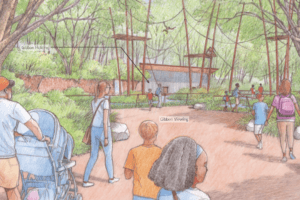 Guests to the Maryland Zoo will be able to interact with animals immediately upon entry while enjoying new habitats and species in an "Americas" zone and an enhanced Maryland Wilderness. Guests of all abilities will have equal access to educational programs, habitats, and amenities.

Animal care will continue to be superior, with state-of-the-art veterinarian facilities, husbandry, and training. Animals will enjoy enhanced enrichment and control over their environments.

The Zoo's loc

al and international conservation efforts will grow with more meaningful, holistic partnerships. The Zoo will achieve important sustainability milestones to reduce its environmental footprint. And it will work with the public to educate and engage people around conservation initiatives.

Employees of all backgrounds will feel welcome at the Zoo, as part of an increasingly diverse workforce. They will receive constructive professional development and competitive compensation. Those who have worked in outdated trailers will relocate to a new office complex with modern amenities.
This new vision will dramatically change the way guests experience the entry of the Zoo, which has been largely without animals for the past 18 years.
"Imagine entering the Zoo and immediately being drawn to our new Gateway building, which highlights our Panamanian Golden Frog work and exposes you to new reptiles, like the Gila Monster," Fowler noted. "Then, you stroll under chattering gibbons (a past Zoo favorite) swinging between trees in a cageless habitat. A little further down, you take in a birds of prey demonstration in a new raptor habitat just behind Mansion House. After enjoying refreshments near the old Elephant Building, you traverse down a redesigned trail, enjoying views of wolverines and grizzly bears in new habitats."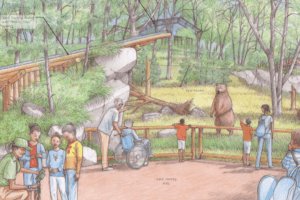 Fowler continued: "As you arrive in Zoo Central, you can explore the new interactive porcupine experience in Northern Passage, marvel at the always-impressive penguins at Penguin Coast, and check out the new habitats for the snowy owl, eagle, and red wolves in Maryland Wilderness. And you haven't even gotten to our African Journey yet, a true gem reflecting decades of effort and investment."
FUNDING
Since 2008, the Zoo has a successful track record of funding more than 70 projects of varying size, scope, duration, and complexity – thanks to the critical support of the State of Maryland, together with the City, adjacent counties, foundations, and private donors. This model will remain in place moving forward, and a test implementation schedule has been created to match project types with fundraising and marketing strategies.
Currently, the Zoo has started requesting funds to act on the plan's recommendations. Monies will be raised on a per-project basis in the coming years. On its aggressive schedule, the Master Plan has assigned top priority in the first few years to the construction of new habitats for the snowy owl, eagle, porcupine, and gibbons, along with a new office complex.
View the full master plan in PDF form below: