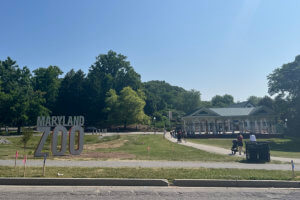 Maryland Zoo Parking Lot Renovation
After a decade of planning and in response to understandable complaints, the Zoo is making long-anticipated improvements to parking at the Main Gate. The work will completely resurface multiple parking lots and should be completed sometime in 2024.
Improvements are underway!
The parking lot renovation will provide:
A better experience for pedestrians

A smooth ride for strollers and wheeled carts

An ADA-compliant surface from the car to the gate

A more bike-friendly entrance

Dramatically improved stormwater water runoff controls
---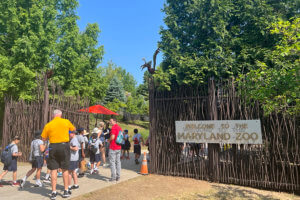 Detours and Alternate Parking
Like any major construction project, this will be disruptive. We've held community engagement sessions to let the neighborhood know what's coming. Our staff is working to minimize any inconvenience. This page is here as a resource for planning your visit and our team is available daily between 8:30 am and 4:30 pm to answer any questions at tickets@marylandzoo.org or 410-396-7102.
The nature of the construction, which includes significant underground work, will require the main lots to be closed for a large portion of the project.
There are ample other areas to park near the Zoo, including along Mansion House Drive where guests will enter through the gate next to Penguin Coast and have a shorter walk into the heart of the Zoo.
---
Member Parking
We have reserved Lot C just for members! There will be staff and signage to help direct Zoo members around the detour to reserved parking. Members must show a valid membership card to utilize this perk. This parking lot is first come, first served and once Lot C is full, members will be re-routed to available parking spaces within the park.
---
ADA Parking
Accessible parking spaces are temporarily located near Lot C at the main gate. Signage and staff will direct guests with disability parking plates or placards to the appropriate spaces.
---
General Parking
We've added an additional Zoo entrance on Mansion House Dr. near Penguin Coast to make it as easy as possible to access the Zoo from alternate parking in that area. Zoo guests should enter 1876 Mansion House Dr. in their GPS to get directions to this parking area.
Parking attendants and directional signs will be strategically positioned to guide you where to park your car.
On busy weekends, a Zoo shuttle will operate in a loop around Mansion House Drive to shuttle people to, and from, their vehicles. Look for marked shuttle stops nearest your vehicle.
---
Rideshares and Taxis
The main gate is still the best place for passenger drop-off. Instruct rideshares or taxis to take you to 1 Safari Place.
---
Bus Drop-Off and Parking
Groups arriving by bus will be dropped off and picked up at our Pelican Gate drop-off zone. Buses will be able to drop off and pick up only. We will not have bus parking near the gate during the parking project.
Please note your bus number and pickup time before entering the Zoo so your group members board the correct bus at the end of their stay. Adults driving separately will also need to park at Pelican Gate and enter with the school. If chaperones arrive by bus, please make sure they are seated near the students. There will not be an assembly area to organize your group when exiting the bus.
Parking attendants and directional signs will be strategically positioned to guide your group. Please see the driving directions for drop off location at the Pelican Gate, as well as the exit location when leaving the Zoo.
Additional drop-off instructions will be emailed directly to your group leader.
Bus Drop-Off Map (Pelican Gate)
---
Thank You For Your Patience!
We recognize the temporary closure of the lots will be inconvenient to members, guests, and staff, and have worked with the contractors on expediting the construction schedule wherever possible.