Meet and greet an endangered African penguin!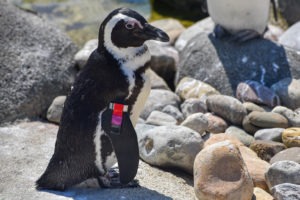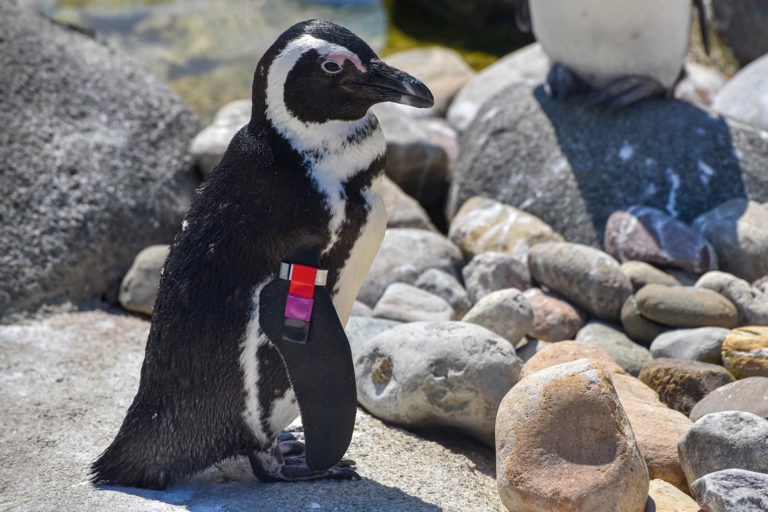 At the Zoo's Penguin Coast exhibit you can see penguins, closer than ever. Get even closer at a special Penguin Encounter. It's your chance to meet and greet endangered African penguins at the Zoo's Penguin Embassy. Take part in an intimate, 20-30 minute tour with a guided keeper experience, special photo opportunities, and up-close penguin interaction (think selfies).
---
PENGUIN ENCOUNTER INFORMATION
Tour Times:
March – October:
Weekdays, 11am & 2pm

Saturdays & Sundays, 11am, 12pm & 2pm
November – December:
Weekdays 2pm only

Saturdays & Sundays, 11am & 2pm

*
January – February:
Mondays & Fridays, 11am & 2pm

Saturdays & Sundays, 11am, 12pm & 2pm
Tour length:
Group Size:
No more than eight (8) guests per tour
* Special Exception: December 26 – January 1 tours will operate daily at 11am & 2pm; Saturdays & Sundays, 11am, 12pm & 2pm.
---
PENGUIN ENCOUNTER PRICES
Adults and children 2 and over:
$49 for Zoo Members
$59 for Non-members*
Children under the age of 2 are free and are not included in the total guest count for tours.
Tickets:
One ticket required per guest.

Purchase online, in advance, or at any Zoo ticketing location.

Same-day tours can be purchased if space is still available.
*Prices do not include Zoo admission. If you're not a Zoo member, you'll need to purchase admission tickets in advance or at the Zoo's Main Gate on the day of your visit.
---
Zoo members, to receive your ticket discount you must first register on the Zoo's online store. Click below to register if you don't already have an account. Once you do, you'll automatically receive your Penguin Encounter discounts at checkout.
---
Important Tour Guidelines & Information:
Penguin Encounter tickets cannot be returned or refunded. Tours are non-transferrable and tickets cannot be used for a different tour date or time.

Tours begin promptly at stated time. Once a tour has begun, additional guests will not be permitted due to safety and tickets cannot be rescheduled or refunded.

If your group has less than 8 guests you may share your experience with others.

Tours are available on a first-come, first-serve basis and fill up quickly. You may need to select another tour date and time if your preferred tour is not available.

Not recommended for children under 5 years of age.

Children under 13 years of age must be accompanied by a ticketed adult.

Children under 2 years of age must be held for the duration of the tour.

Tours can accommodate guests using wheelchairs; however, strollers are not permitted.

Service animals are not permitted on tours.

Tours are weather, staff and penguin dependent. The Zoo reserves the right to cancel a tour or end a tour for any reason, including guest behavior.
Penguin Encounters make great gifts! Click here to see a herd of wild Zoo gift ideas.
---
Penguin Encounter Questions?
Call 410-396-7102 from 10am-4pm daily or email tickets@marylandzoo.org.