Join us on Zoom for an up-close experience with an elephant!
*Thursdays and Saturdays, preregistration required
---
All in person encounters have been suspended until further notice. Please check back for available dates and visit our news page for updates concerning the Zoo's response to Covid-19.
Penguin Encounters
It's your chance to meet and greet endangered African penguins!
*Daily, hours vary
---
Behind-the-Scenes Tours
A once in a lifetime opportunity to experience the Zoo like never before!
*Scheduled, hours vary
---
Talons & Tails Encounter
Follow down the path less traveled into the world of our Animal Mews outdoor enclosure!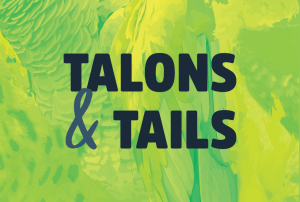 *Once a week
---
Zoo Bites: Animal Nutrition Tour
Take part in an exclusive one-of-kind experience inside the Maryland Zoo's commissary complex!
*Twice monthly
---
Goat Grooming
Get up close with some very friendly (and furry) faces in the Zoo's Farmyard.
*Daily, free
Daily Events
The Zoo has a variety of events going on every day including penguin feedings, keeper chats, and more!
*Daily, Free
---
Chimpanzee Encounter
It's your chance to help train our chimpanzee troop!
*Once a week
---
Giraffe Feeding Station
The Feeding Station features a gated feeding area where visitors can purchase a branch of acacia browse to feed the giraffe.
*Daily, winter hours vary
---
Train Engineer For a Day
Work alongside our engineer to learn what goes into running the Zoo's train.
*Daily
---
Guided Zoo Tours
Get the most out of your Zoo visit with a 60-minute guided tour!
*Daily