2020 Highlights
While people across the world took a global time-out this year, nature continued to stir and animal care staff at the Zoo continued to care. It certainly was a tumultuous and unpredictable year, but 2020 helpfully reminded us of the interconnectedness of humans, animals, and the natural world. The year taught us to be creative, resourceful, and tolerant of change, in the face of seismic disruptions in the world. Now it's time to take a look back at the good things this year brought…
---
January
Zoo Vet Techs Travel to SANCCOB
In January, two of our veterinary technicians had the chance to travel to South Africa to lend their skills to the Zoo's long-time African penguin conservation partner, SANCCOB.
---
February
News for Baby Chimps
In February, the second baby chimp to be born at the Zoo in 2019 was named Violet with the help of the Baltimore Ravens front office staff! This month we also found out through DNA test results that older baby chimp Lola's dad is male chimpanzee, Jack.
---
March
Zoo To You Series
In March, the Zoo shut down due to Covid-19 for what ended up being three months. While we were #ClosedButStillCaring, we began the Zoo To You video series that was posted weekdays at 11 am. While you were at home, we brought the Zoo, and some fun educational info about animals and how we care for them, to you.
---
April
Egg Watch Live Cam
This April brought a brand new live cam to our website featuring the trumpeter swan pair and their egg-citing new additions to their nest. We set up a wildlife camera so viewers could take a peek while waiting for the first peep.
---
May
Prairie Dog Pups
In May, the tiny black-tailed prairie dog pups made their first appearances of the season, popping up above ground.
---
June
The Zoo Reopens
We were so thankful to reopen the Zoo on Wednesday, June 24, 2020. Following the guidance of State and City public health directives, we followed a phased reopening approach that strictly limited attendance and programming. During this time, we also welcomed our new president and CEO, Kirby Fowler.
---
July
LEGO Turtle Release
Two years after arriving at the Maryland Zoo in need of extensive medical treatment and a customized LEGO® wheelchair, a wild Eastern box turtle, widely known as LEGO Turtle, was returned to his native habitat in Druid Hill Park.
---
August
Rescued Wood Turtle Egg Hatches
This past June, a wild female wood turtle was brought to our Veterinary Hospital after being struck by a car. Fortunately, she survived, but also presented a special case because she was gravid—in other words, full of eggs. She was treated with hormones to induce her to lay the eggs, and she did. In late August, after several weeks of incubation, one hatched! It will be the first participant in the Zoo's wood turtle head-start program, our newest conservation initiative with the DNR and Susquehannock Wildlife Society.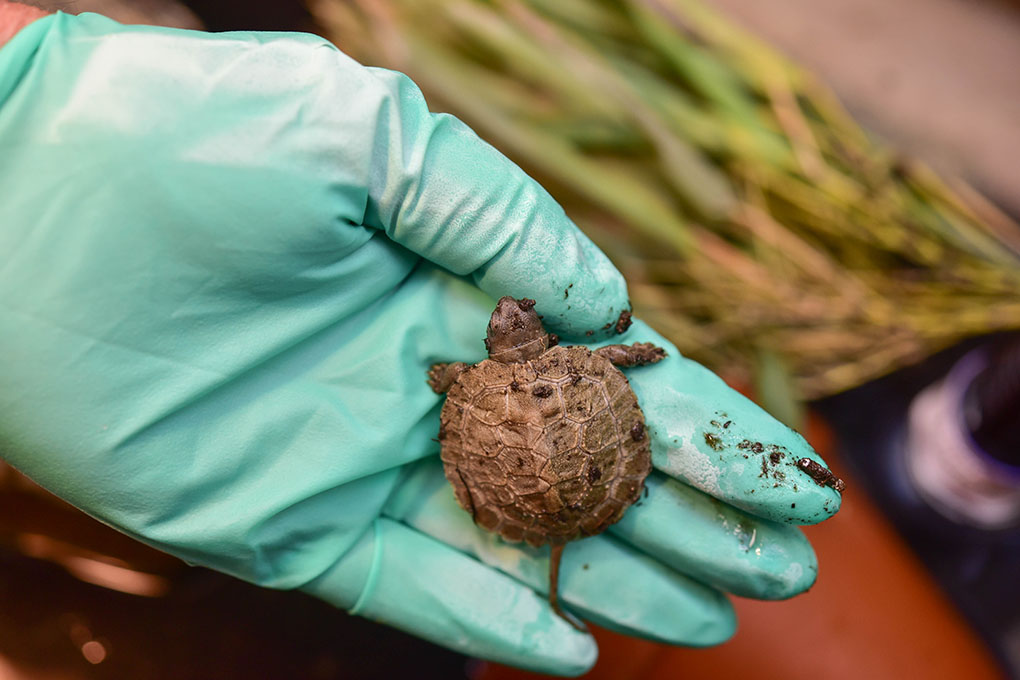 ---
September
Updated Habitats
In September, we welcomed Sofiya the Amur leopard back to her newly renovated habitat along the boardwalk in African Journey. It underwent a complete renovation, including a major overhaul of both the behind-the-scenes areas and the public-facing habitat. The habitat now has two new climbing structures, a cave for Sofiya to lounge in, and an enhanced training area.
This month bald eagle Vega also got some new digs as she was moved into a new, larger habitat in Polar Bear Watch. The updated enclosure (formerly the Arctic fox habitat) includes more space, many perches, and room to fly. When Vega first came to the Zoo, she was in need of rehabilitation and had a lot of limitations. Over time she has become more mobile and we were excited for the opportunity to move her to an expanded space.
---
October
Welcoming Baby Chimp Maisie
In October, we welcomed a baby female chimpanzee born at the Oklahoma City Zoo on August 28, 2020. She was moved to the Maryland Zoo to be hand-reared and paired with a surrogate chimp mother after her birth mother was unable to care for her properly. During this month we also held a naming contest for her and our Zoo fans chose the name Maisie!
---
November
Zoo Lights
In November, we brought back a fan-favorite event that the Zoo hasn't held in many years – Zoo Lights! We lit up Baltimore with a colorful evening display of holiday Zoo Lights from Friday, November 20, 2020, through Sunday, January 3, 2021. This seven-week fundraising event brought twinkling lights and holiday flare in the shape of many of your favorite zoo animals to the Zoo.
---
December
Guenons
This December, we welcomed two Schmidt's red-tailed guenon to the Chimpanzee Forest! The recently introduced pair are six-year-old female, Naim, from ZooTampa at Lowry Park and five-year-old male, Gus, from Zoo Atlanta. After an introduction period, they will share the habitat of the colobus monkeys.
---
We are so very appreciative that you have made the Zoo such a special part of your lives—Here's to a wonderfully wild 2021!
Any time is a good time to make a tax-deductible to the Zoo. Give now to support your favorite animals as we work to care and conserve them.