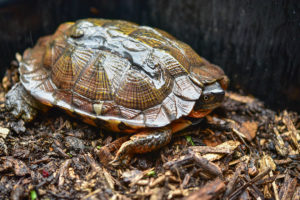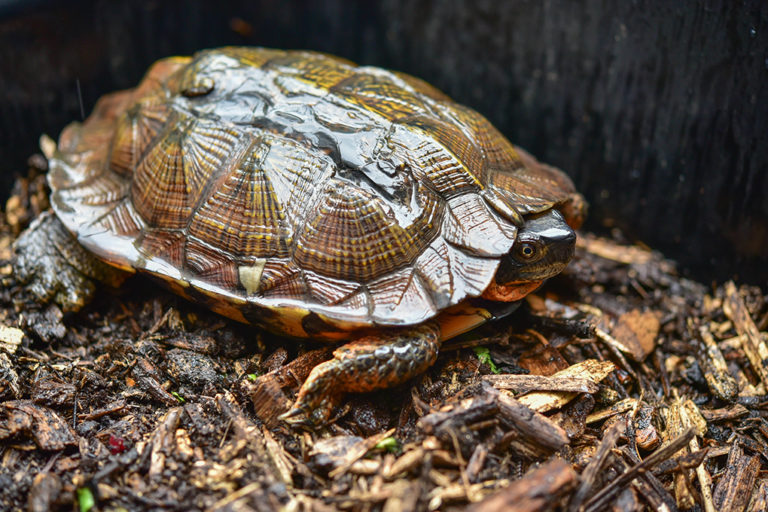 While people across the world took a global time-out this spring and summer, nature continued to stir and animal care staff at the Zoo continued to care. One pint-sized beneficiary of this care was a wild female wood turtle struck by a car in Allegany County in June. Fortunately, she survived and was rescued. The Maryland Department of Natural Resources (DNR) referred her to the Zoo's Veterinary Hospital. The Zoo collaborates often with the DNR on wildlife conservation work, including caring for wildlife in distress.
This injured turtle presented as a special case because she was gravid—in other words, full of eggs. Upon arrival at the Zoo Hospital, she was treated with hormones to induce her to lay the eggs, and she did. In late August, after several weeks of incubation, one hatched! Out came a tiny turtle no larger than a quarter. It will be the first participant in the Zoo's wood turtle head-start program, our newest conservation initiative with the DNR and Susquehannock Wildlife Society.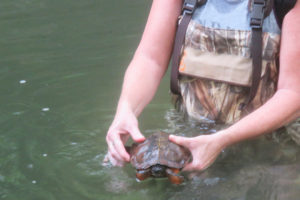 The hatchling will be raised pathogen-free at the Zoo Hospital for the next few years before being returned to the wild, where hopefully it will produce offspring of its own to bolster local populations. Wood turtles are native to Maryland, but populations are declining in many parts of the state and across the broader northeastern range.
Meanwhile, the mother turtle is already back where she came from. She has healed fully and was released in early September in western Maryland close to where she was found.
This article came from Zoogram Fall/Winter 2020. Read more of the issue below: