Help Save Chimpanzees in the Wild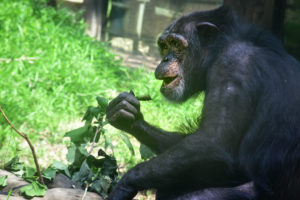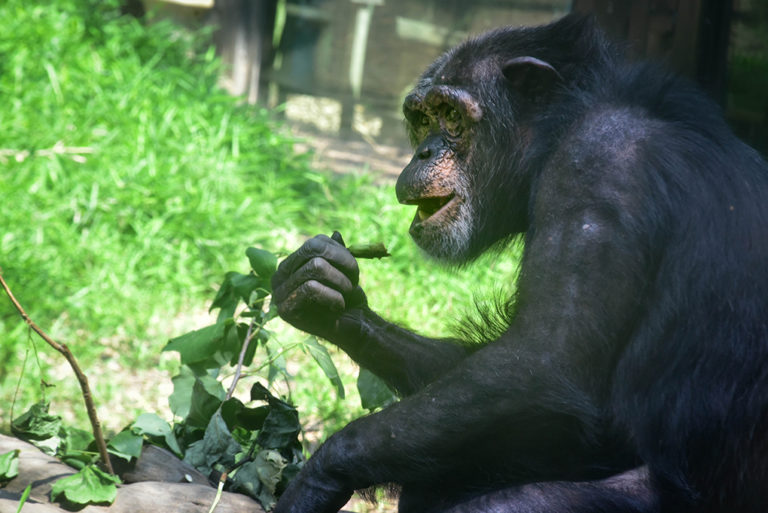 How do cell phones and electronics impact wildlife?
Many cell phones and other electronic devices contain minerals extracted from dangerous and destructive mining practices that directly affect chimpanzees, gorillas, okapi, elephants, and other wildlife from the Congo Basin of Africa. Recovering these minerals from used devices lessens the demand and impacts from mineral mining prevents further wildlife habitat destruction.
Visit the Zoo's Main Gate or Chimpanzee Forest to donate your old and used electronics today!
---
FAQs
Who is Eco-Cell and what do they do with my device?

Eco-Cell is a company that takes cell phones and other recycled devices and reuses or salvages materials from them, keeping them out of landfills and mitigating the need to mine for new minerals. Eco-Cell is a small, family-owned company that many Zoos across the country, including the Maryland Zoo, work with.
Does this also help the Zoo?
In addition to helping wildlife and keeping e-waste out of the environment, the money returned to the Zoo from Eco-Cell is donated by the Zoo directly to our conservation partners, including Chimpanzee SAFE and the Okapi Conservation Fund to further protect the species threatened by this mineral mining. A win-win!
What about data privacy concerns when I turn in the device?
Please follow instructions for your specific device on wiping data also known as resetting the device. However, in general, going to your device's Settings, there is an option "Reset Phone" "Factory Reset" or on iPhone "Erase All Content and Settings." Again, for any questions or further instructions on wiping your data, please consult the appropriate website or manual for your device.
What other devices can be dropped in the box for recycling?
Cell phones

Smartphones

iPhones

iPods

iPads

Tablets

Apple/Android watches

Bluetooth

GPS

MP3 players

E-readers

Digital cameras

Handheld gaming systems and the accessories that come with them

Cell phone chargers
Where in the Maryland Zoo are the drop-off boxes located?
We have boxes for drop-off. One is located in the Chimpanzee Forest so you can drop off devices while enjoying the Zoo and one is located at the Main Gate so that devices can be dropped off at the beginning of your Zoo trip or without visiting the Zoo.
Can I get more information about Eco-Cell and what they do with the devices?
---
Assumption of Risk & General Release of Claims: In donating your device under this program, you are required to reset the factory settings of the device and erase all personal information from your device. You are assuming the risk of participating in this program. You further agree, on behalf of yourself and your families, estates, heirs, executors, administrators, assigns, and personal representatives, to release, discharge, and hold harmless THE MARYLAND ZOO IN BALTIMORE, THE MARYLAND ZOOLOGICAL SOCIETY, the CITY OF BALTIMORE, the STATE OF MARYLAND, their board members, directors, officers, agents, servants, independent contractors, affiliates, employees, volunteers, successors, and assigns from any and all liability arising from injury or loss experienced as a result of your participation in this donation program. This release and waiver extends to all claims of every kind or nature whatsoever, foreseen or unforeseen, known or unknown.