HE HAS A NAME! Click here to learn why the team caring for him around-the-clock chose the name Julius for the calf.
Care Video: video on the quick action, coordination, and partnership that went into securing giraffe plasma from Columbus Zoo for a transfusion administered to the calf. Click Here.
---
Update (June 27th 5pm): A peek at how the Zoo's newborn giraffe calf is doing today. Julius is more bright, alert and active today and his strength continues to impress us. He also gained an additional 5 lbs since yesterday.
These steps towards recovery may not seem momentous, but only days after he was receiving critical care, stability is truly an achievement for Julius and the team working with him. Thanks for celebrating every little victory with us, #TeamJulius.
---
Update (June 26th 6pm): With Julius' blood work now stable, the team continues to focus their energies on acclimating the newborn calf to bottle feeding. It's a learning experience for him and Julius is more eager during some feedings than others – all part of a normal learning curve.
The initial reason Julius did not naturally nurse is unknown, and no new attempts to nurse from his mom have been witnessed by the team. Now, 11 days after giving birth, it's unlikely Kesi is still producing milk. Thankfully, the team is ready and able to provide Julius' nutrition for the foreseeable future
---
Update (June 25th 6:30 pm): Another day and more hope for Julius. The Zoo's ten-day-old giraffe calf (can you believe it's been 10 days already?) gained 4 more lbs and showed solid results in his blood work and exam today. He's getting stronger every day, too – a sign the whole team is very encouraged by.
Julius and his mom Kesi continue to spend all of their time, aside from his feedings and exams, together. His almost 5-month-old half-sister Willow, dad Cesar and the rest of the herd can regularly be seen outside by Zoo guests as the Giraffe House remains closed.
---
Update (June 24th 6 pm): 
 Two good days in a row for Julius. The Zoo's newborn giraffe has improved significantly in the last 48 hours. The team even described him as "feisty" today because of his strength and alertness. His promising response to intensive treatments and continued improvement bottle feeding have led the veterinary team to begin decreasing the frequency and intensity of his treatments. And, in more good news, he now weighs 160 lbs – that's an 8 lb gain from yesterday!
As #TeamJulius has continued to grow stronger so has he so thank you for your tremendous support of Julius and the animal care and veterinary teams working with him.
---
Update (June 23rd 12pm): Little victories for Julius. This morning, the week old giraffe calf successfully drank a 1/2 bottle of the milk supplement offered to him by the animal care team. He also gained 4 lbs since yesterday – he his now 152 lbs. Julius is not out of the woods yet, but these are both signs of gradual improvement. Thank you for your continued support, #TeamJulius!
---
Update (June 22nd 7pm): Today was a challenging day for the Zoo's newborn giraffe, now a week old, and the teams caring for him. The calf did gain 2 more lbs, but general weakness and changes in his bloodwork caused concern for the team, which has lead to more intensive care. He has been a cooperative patient (see him here resting while receiving care) and has responded well to treatment for now.
As many of us know from our own experiences with human health, illness can be a rollercoaster of ups and downs. The things that stick out in times like these are the support of caring individuals like you, our Zoo supporters, and the exceptional care and treatment from talented professionals like the Zoo's animal care staff, veterinarians and vet techs. He's still fighting, and we know he is in good hands.
---
Update (June 21st 3:30 pm): Happy #WorldGiraffeDay, everyone! It's fitting that this special day brings more incremental improvement for the Zoo's newborn giraffe calf. He has gained 2 lbs since yesterday and his blood work currently appears stable. Also, keepers noted him taking a nap while they were present for the first time! These are tiny signs that the tireless work feeding and monitoring him by the Zoo team is helping.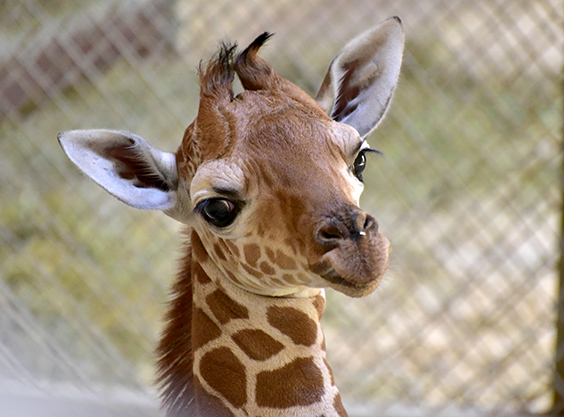 ---
Update (June 20th 8 pm): Baby steps towards progress for the Zoo's newborn giraffe. He has gained 3 lbs since yesterday and the Zoo team continues to work with him on bottle feeding. Aside from during supplementary feedings and veterinary checks, he spends all of his time with Mom Kesi. She is a great mom and has remained calm and attentive through this process.
---
Update (June 19th 12 pm): He's very alert today, but overnight the Zoo's newborn giraffe lost weight, so the team is moving forward with bottle feeding. The calf's face is covered to calm him and simulate the sensation he would feel from his mother's belly overhead while feeding. It often takes time for a calf to latch on to this new skill, so it is a work-in-progress and takes patience.
---
Update (June 18th 3 pm): He's 3 days old and continues to be monitored closely by the animal care team but is showing some progress. The Zoo's newborn giraffe calf has gained 2 lbs in the last day and while he has not been seen nursing, his blood work today revealed slight improvement.
In this first look inside the Giraffe House, you'll see him standing and walking after a veterinary check. His mom Kesi is reentering their stall immediately after the medical team has moved safely out. Kesi is a very attentive mother and continues to do a great job protecting and tending to her son.
---
Update (June 17th 8 pm): The Zoo's giraffe care and veterinary teams are working together to provide specialized care to the newborn calf whose initial blood work indicated that he was not receiving the necessary antibodies to help protect him from disease or infection. Today he received a feeding of a special colostrum formula to help kickstart his immune system. The team was pleased to discover he gained 4 lbs in the last day and remain cautiously optimistic as they monitor he and mom Kesi's interactions closely for signs of nursing.
---
The Maryland Zoo has quietly welcomed the birth of a 143-pound, six-foot-tall male reticulated giraffe during the early morning hours of Thursday, June 15, 2017.
Zookeepers were on overnight watch when seven-year-old giraffe Kesi went into labor; the calf was born at 5:49 am. "Although the birth went well and he was on his feet in only 20 minutes, the calf has not been actively nursing," said Erin Cantwell, mammal collection and conservation manager. "We did note attempts to nurse, but his initial blood-work indicated that he was not receiving the necessary antibodies to help protect him from disease or infection."
Zoo staff, including the Giraffe House team and veterinarians, began to supplement his feeding with a special colostrum formula early Friday morning.  "We are cautiously optimistic that his natural instinct to nurse will take over, but we are prepared to supplement his nutritional needs until that happens," continued Cantwell.  "Despite the calf's lack of nursing ability, Kesi is proving to be an amazing mother. She is very attentive and protective of him as well."
Mother and calf are bonding in the Zoo's Giraffe House and are not yet viewable to the public. The building will remain closed during their first days together to provide them peace and quiet, while staff continues to monitor the calf's growth and provide any necessary support.  The other giraffe may be outside and visible during different times of the day until the herd can be fully introduced to the new calf.
Average gestation for a giraffe calf is approximately 15 months. Giraffes give birth while standing and, unlike humans, the calf is born hooves-first. The calf then proceeds to stand, usually within one hour after birth. In the wild, it is important for a newborn giraffe to be able to stand quickly to elude predators. Giraffe calves typically grow 3 centimeters tall each day during the first week, nearly doubling their height in their first year.
Kesi came to The Maryland Zoo in October 2012 from the Ft. Wayne Children's Zoo in Ft. Wayne, Indiana.  Her move to the Zoo was a recommendation from the Association of Zoos and Aquariums' (AZA) Giraffe Species Survival Plan (SSP), a cooperative, long-term management program designed to maintain genetically viable and geographically stable populations of specific species. The calf's father, Caesar, has been at The Maryland Zoo since 2008.   "Kesi was brought to the Zoo as a youngster with the idea that she would breed with Caesar once she had matured," said Cantwell. "Anuli and Juma are also here by way of recommendation of the SSP. Very soon, we hope that this little calf will find himself part of a very nice herd that includes Willow, his half-sister born in February."