We Need Your Help
A Northern ground hornbill chick hatched at the Zoo on July 18th! After growing quickly over the last few weeks, we're eagerly waiting for the chick to fledge the nest.
We need your help to name the hornbill chick! Voting will begin September 5th and end September 13th. The chick's name will be announced on September 14th.
Here are some facts about the chick to know before choosing a name:
We do not yet know the chick's gender. A blood sample has been sent out and we should have the results in a few weeks.
The chick is the first for female, Blue, and male, North, who have been together for over a decade
The hornbill pair are nesting in a recycled wine barrel
---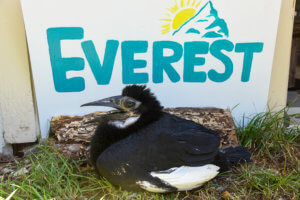 Names:
The following finalists were selected by the team that cares for the chick:
40.6% – Everest: The hatching of this chick has been our team's personal "Mt. Everest"

38.1% – Zawadi: Means "gift" in Swahili
21.3% – Tannin: A substance that provides unique characteristics to wine

VOTING HAS CLOSED. THANKS FOR CHOOSING A NAME!
---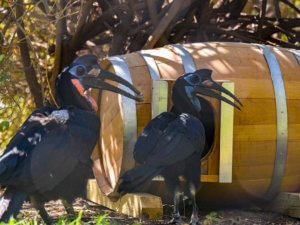 Adopt the Ground Hornbill Chick
Limited Edition Adoption Package – $65
A frameable photograph of the ground hornbill chick

Two (2) one-time-use Zoo tickets valid for one year

Personalized official animal adoption certificate

An animal fun fact sheet

Free shipping & handling
The ground hornbill chick is being cared for behind the scenes and is not currently viewable by guests.