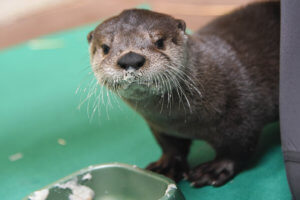 We are currently caring for a rescued North American river otter pup at the Zoo hospital. In late May, we received a call alerting us that an orphaned 1-month-old pup was taken in by rangers at a Maryland State Park and needed immediate care. After being transported to the Zoo's hospital for assessment, the healthy female pup is being cared for by our team of animal professionals, including multiple feedings, daily vet checks, and otter-appropriate enrichment.
This isn't the first time the Zoo has cared for and helped rehabilitate a rescued animal. In fact, we frequently partner with the Maryland Department of Natural Resources (DNR) on wildlife rescue, rehabilitation, and fieldwork projects. While we always hope that any animals brought to us for medical attention can be returned to the wild, sometimes they are deemed non-releasable—like the river otter pup. We will continue to care for her until she is permanently placed at another facility at the recommendation of the North American river otter Species Survival Plan, but we have a wide array of rescued and rehabilitated animals who call the Maryland Zoo their permanent home.
Learn more about the otter pup
---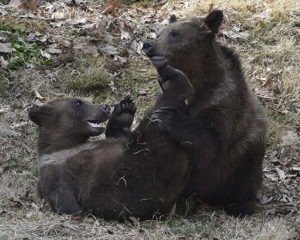 Grizzly Bears Nova & Nita
In late 2016, two grizzly bear cubs were found in Montana trying to survive in the wild without their mother. For several days, they were observed foraging by themselves, but it became obvious that one cub was failing so a decision was made by a local biologist to capture the cubs. They were taken to a local vet and upon examination, it was discovered that the smaller of the cubs had been shot. Luckily the wounds were not severe and the cub was able to be treated with antibiotics, however, the cubs were starving having not quite learned how to forage for themselves at such a young age.
They were moved to The Montana Wildlife Center in Helena, which rehabilitates orphaned wildlife for the purpose of release back to the wild and is run by Montana Fish, Wildlife, and Parks (FWP). Several weeks after their capture, the mother of the cubs was located with severe shotgun wounds to her face and was subsequently euthanized. Due to cubs being approximately 6 months old at the time, they were not good candidates for rehabilitation and release to the wild, so Montana FWP put a request to the Association of Zoos & Aquariums to assist in finding the cups a permanent home. We welcomed the cubs to the Maryland Zoo in early 2017 at approximately 11 months old.
---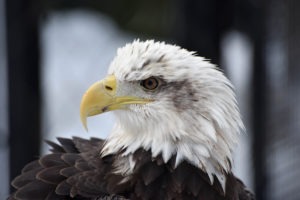 Vega the Bald Eagle
We welcomed an adolescent bald eagle to the Zoo in 2014 from The National Aviary in Pittsburgh. Due to her young age, likely about 5 years old, she still had feathers on her head that were not uniformly white just yet but mixed with brown. She was originally found in North Carolina in 2009, and after attempts to rehabilitate and release her into the wild, she was deemed non-releasable. The young eagle was later named Vega through a public voting contest, which is a constellation in the summer sky also known as the "Swooping Eagle"
---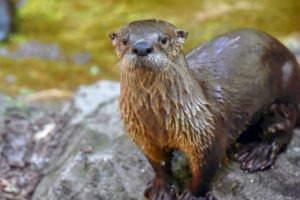 Hudson the River Otter
Much like the rescued river otter pup we're currently caring for at the Zoo hospital, our resident river otter Hudson was also a rescue. We welcomed Hudson to the Zoo in 2016 from Oregon Zoo at just one year old. He was orphaned as an infant, and was found in June of 2015 walking alone along Highway 58 SE in Eugene, Oregon, which runs along the Middle Fork Willamette River. Hudson was taken to the Chintimini Wildlife Center for treatment and care until he was moved to the Oregon Zoo.
The staff at the Oregon Zoo estimated him to be 2½ to 3 months old at the time and hand-reared him for a few months before he was introduced to the other otters at the zoo. He was then transferred to the Maryland Zoo in March 2016 as a companion for female Piper, a young female otter who arrived here the same year.
---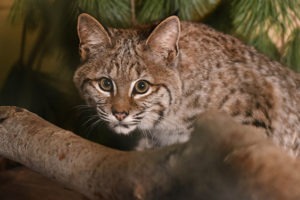 Kilgore the Bobcat

In June 2016, an orphaned and undernourished bobcat kit was found by a fisherman in the wilds of Oregon. The Oregon Department of Fish & Wildlife took possession of the kit before turning him over to the Oregon Zoo at approximately 6 weeks old and a little less than 2 pounds. He was in good health, however since he had been found alone at such a young age, he was not a candidate for release back to the wild. Staff at the Oregon Zoo raised him for a few months before he was transferred to the Maryland Zoo in late 2016. The kit was named for the Kilgore Falls, Maryland's second-highest vertical waterfall, in Rocks State Park.
---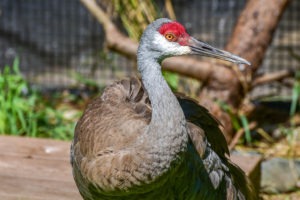 Sandhill Cranes Garrett and Allie
Sandhill Crane Garrett was approximately 18 months old when he was initially brought to the Zoo for medical attention after he was reported to the Maryland Department of Natural Resources (DNR) for approaching people and walking down the center lane of a highway in Garrett County. According to various sources, he was spotted not only dangerously close to traffic over the course of a few weeks, but was also once seen in the parking lot at a Home Depot. Our colleagues at the DNR called us to borrow a crate so they could catch him, and they brought him here to the Zoo for a medical check-up with our veterinarians.
Garrett was healthy, but thin and seemingly imprinted on humans as he appeared unafraid of DNR and Zoo staff, opting to follow them rather than keep his distance. Based on these observations, it appeared that he must have been relying on someone for food early on in his life, which would explain his lack of fear of humans. He was subsequently deemed non-releasable and placed at the Zoo's Marsh Aviary in 2015.
Allegany or "Allie," arrived at the Maryland Zoo in 2017 from SeaWorld Orlando. She was found in the wild with an injury to her left wing and was subsequently deemed non-releasable due to the extent of the injury. Our colleagues at SeaWorld took her in for rehabilitation and to locate a permanent home for her. We were seeking a companion for Garrett at the time, so we were happy to bring her to the Maryland Zoo.