BALTIMORE, MD – The Maryland Zoo in Baltimore today unveiled a new virtual reality experience called Wildlife Quest.
Wildlife Quest pairs VR headsets with high-tech motion seats in an outdoor theater that transports Zoo guests into a 360-degree virtual reality to get up close to actual animals living in the wild.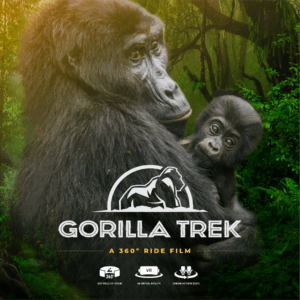 "Maryland Zoo is an immersive experience where people can see, hear, and even smell animals while learning about these amazing species and the pressures they face in the wild," said Maryland Zoo President & CEO, Kirby Fowler.
"With Wildlife Quest, we're taking that one step further," Fowler said. "Our guests will be teleported into faraway places to observe animals in their native habitats. It's just like the fieldwork our Zoo conservationists do in real life."
Wildlife Quest will feature a rotating series of films that combine award-winning storytelling with beautifully shot HD footage. The first film, Gorilla Trek, takes the viewer 10,000 feet up a dormant volcano in Rwanda to live with a family of endangered gorillas and witness the power dynamic between the alpha male and an upstart rival.
Wildlife Quest is located in the heart of the Zoo near the award-winning Penguin Coast and popular attractions and concessions.
Information about Wildlife Quest, including hours, ticket prices, and age and height restrictions, is available below.