The Maryland Zoo is mourning the unexpected loss of its beloved reticulated giraffe (Giraffa camelopardalis reticulata), Willow. The cause of death is not yet known.
Willow began showing a sharp decrease in appetite this past Friday. Gastrointestinal issues are not uncommon in ruminants, and the Zoo began treating Willow and closely monitoring her health around the clock, She appeared to be stable before suddenly deteriorating yesterday. A complete post-mortem examination is being done to determine the cause of her sudden decline.
A six year-old, Willow was born at the Maryland Zoo to female, Juma, and male Caesar, who still resides in the Giraffe House. She was incredibly popular and named during a public contest that drew more than 26,000 responses.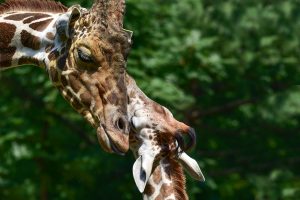 This is a tremendous loss and we know our members, guests, and friends feel it too. Since her birth, Willow has inspired joy and compassion in thousands of people. She grew from an awkward calf with ossicones that looked like pigtails to a beautiful icon of the Zoo and her vulnerable species. Her presence at the Giraffe Feeding Station, in particular, is something everyone will miss. We could go on about Willow's goofy personality and many life milestones and know those topics will be in conversations today in our barns and your homes. We know you understand how special Willow was and the significance of her loss. Thank you in advance for joining us in mourning.
Giraffes are listed as "vulnerable" by the IUCN, the world's leading conservation organization, with the caveat that "populations of giraffes are scattered and fragmented, with different growth trajectories and threats." Currently, of the nine subspecies, four are increasing, four are decreasing, and one is stable. Reticulated giraffes are one of the subspecies suffering population decline. Giraffes are threatened primarily by habitat loss and degradation and illegal hunting and poaching.
In honor of Willow, we created a memorial comment form below. Messages submitted will be shared with the teams that cared for Willow. Your kind words are enough, but anyone wishing to further support the Zoo, our conservation mission, and Willow's legacy can make a direct donation.
Send A Message To The Zoo In Memory Of Willow
Click image for full size slideshow