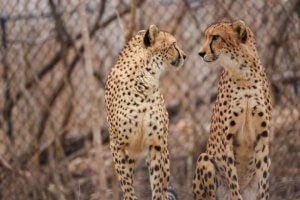 BALTIMORE, MD – The Maryland Zoo is saddened to announce the loss of eight-year-old male cheetah Bud, who was humanely euthanized after a long period of gastrointestinal illness.
While digestive disease can be common in this species, Bud's symptoms were extensive and complex, requiring specialized and intensive care by his keepers, the Zoo's veterinarians, and the expertise of multiple veterinary specialists. Bud had shown promising responses to the multifaceted treatments but, despite these efforts by Zoo staff, his condition slowly worsened. Over the past week, it became clear that his quality of life had deteriorated and the difficult decision was made to euthanize him.
Bud and his brother Davis came to the Maryland Zoo in March 2019 from the Lee G. Simmons Conservation Park and Wildlife Safari in Ashland, Nebraska.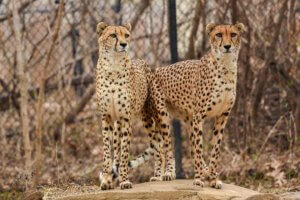 The cheetah brothers lived together at the Zoo for the last several years. Keepers have been monitoring Davis closely, and he is doing well without his brother in the habitat in the African Journey section of the Zoo. Adult male cheetahs are typically solitary, although smaller groups of sibling male cheetahs often form alliances in their native ranges for increased hunting success.
Cheetahs, the world's fastest land mammal, number fewer than 12,500 and are increasingly rare in Africa, particularly outside of protected national parks. Human pressures are largely responsible for the cheetah's endangered status, including decreasing habitat, poaching, and extermination by ranchers. Zoos are an important link to saving the cheetah. North American zoos, including The Maryland Zoo, work cooperatively on research to learn more about this magnificent cat and support conservation efforts of this species in its native range.
Click image for full size slideshow