Wallow You Name Him?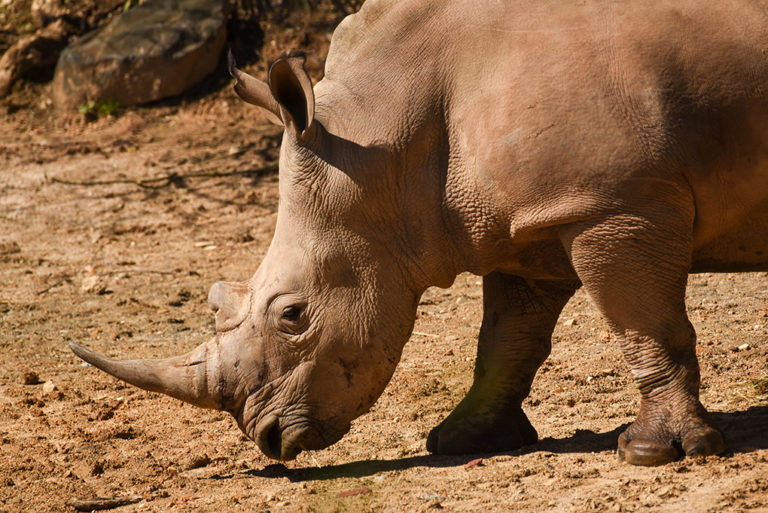 We recently welcomed two young southern white rhinos to the Zoo. In order to raise funds for the care of these BIG new additions to the African Watering Hole, along with the other 130+ species in our care, we are doing something new. For every $100 donation made to the Zoo below, donors will receive one entry into the naming contest for the chance to name one of the rhinos.
One winning donor will be selected at random and given the opportunity to meet the rhino and their Care Team on a Barn Tour (with three friends!) before they choose a name. (Please note, the name must be mutually agreed upon by the winner and the Zoo.)
This fundraiser has ended.
---
How Far Does Your $100 Gift Go?
Bringing in new animals is an amazing, yet expensive undertaking. With your support, we can continue to give these boys the best care possible!
Food: $36/day

Enrichment: $150-700+/item

Animal Care Team: $170-250/day

Medical Exams: $500+/year
---
Naming Contest Details:
Each $100 donation includes one entry into the naming contest.
Each donor will receive a virtual thank you with special video content.
Contest will end at 11:59pm on Tuesday, June 1, 2021.
Winner will be randomly selected and contacted via email on Wednesday, June 2, 2021.
Winner will have 48-hours after contact to reply to the Zoo regarding their win. Otherwise, another winner will be randomly selected from the remaining entries.
Barn tours will take place in-person or virtually during the week of June 7-11 and are staff and animal dependent. All current Zoo guidelines and restrictions will apply to in-person barn tours. Participants must be over the age of 5 to participate in an in-person tour.

Rhino name must be mutually agreed upon by contest winner and Zoo staff by Friday, June 18, 2021.
---
Questions? Contact a member of our development team at development@marylandzoo.org or 443.552.5285.