Update 10/24:
RHINO INTRO UPDATE: Slow and steady. That's the phrase that describes the pace the rhino team is taking introductions between two of the biggest boys at the Zoo. It's also the demeanor we're looking for between them before it's time to move on to the next stage of intros.
Here you'll see and hear (sound on 🔊) Stubby (left) and Jaharo (right) interacting, vocalizing and eventually separating during a behind-the-scenes introduction. This behavior is a positive sign of their growing comfort with one another.
---
Update 10/5: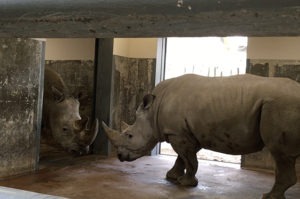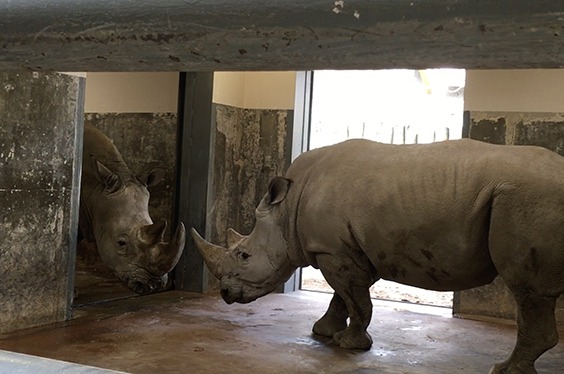 RHINO INTRO UPDATE: If you watched our recent video of Stubby and Jaharo's 'howdy' interaction, this photo will look familiar with one big difference. The two rhinos are face to face, but now there's no barrier between them. Sharing space is a big deal for these heavyweights, and the rhino team is not taking this next stage of introductions lightly. There are clashes of horns, grunts, bellows, and sniffs. It's all part of rhino demeanor and each behavior cues the team to where the boys stand with one another. The process is slow and deliberate, so there still will not be a rhino on exhibit most of the day for the time being as behind-the-scenes introductions like this continue.
---
Update 10/22:
RHINO INTRO UPDATE: 🔊 Listen closely starting 12 seconds in. 🔊
Southern white rhinos Stubby and Jaharo continue with more 'howdy' introductions behind-the-scenes under the close watch of the rhino team. The low, breathy sound you hear midway through this video is a vocalization made by Jaharo. It's a social communication and a positive sign. The team will continue to take this introduction process slowly and deliberately, watching for more cues from the big guys before determ ining it's time to move on to closer contact between them.
---
Update 10/19:
RHINO INTRO VIDEO: Howdy! It's not what Stubby (left) and Jaharo (right) are saying, it's a zoo term for what they are doing. A 'howdy' is an opportunity for two animals to meet without sharing space, limiting the risks while allowing the pair to become familiar with the sight, smell and touch of each other. This is the first step on the slow and carefully planned road towards our two Southen white rhinos being introduced to one another.
This behind-the-scenes interaction only lasted several minutes and the demeanor of both males was nonaggressive – a good sign. We always, always expect the unexpected and prepare for the worst-case scenario for the safety of the animals, though. The team will continue with howdy introductions like this one until the behavior of the rhinos cues them that it's time to move to the next phase.
Both Stubby and Jaharo will remain off exhibit as this process continues and small steps are taken towards acquainting these two very large and powerful animals. We'll keep providing updates, too. Thanks for following along!
---
ANIMAL NEWS: It's going to be a very BIG meeting. If you follow the Zoo you know there are now two male Southern white rhinos who live in the African Watering Hole. Stubby, our older male turned 24 years old today (Happy Birthday, Stubs!). Jaharo, our newest 4-year-old male (soon to be 5) arrived earlier this year. And while these two males have been housed near other, they have yet to officially meet.
The Zoo's animal care team has been preparing for this very important introduction for months. Both rhinos have been given time to be able to smell each other, sense each other, and hear each other since Jaharo arrived, but seeing each other for the first time is a big step in a carefully planned process as there are always risks when introducing animals.
White rhinos are animals that often live in groups, but meetings between males can be very unpredictable. The hope is that Stubby and Jaharo will react positively to one another, but as in the wild, it's not uncommon for males, in particular, to potentially react aggressively.
The animal care team is prepared for any outcome and the process will begin with what's called a 'howdy' where both rhinos will get to be face-to-face for the first time with a barrier between them to ensure their safety. If that initial introduction goes well, which the team is hopeful for, then the two will slowly get more access to each other with the goal of sharing the same space at some point in the future.
As this very careful introduction begins, we hope you'll understand as both rhinos will be off exhibit for what could be a few days or a few weeks depending on how quickly the males take to one another. The team will be moving at a rhino pace with the priority being the safety and well being of both Stubby and Jaharo.
Along the way we'll keep you updated on the progress on Facebook and let you know how things are going behind-the-scenes. We're hopeful for a positive outcome, although it's not guaranteed. These two important rhino ambassadors represent a very threatened species that the Zoo is proud to help care for and conserve. Stay tuned!