HE HAS A NAME! Click here to learn why the team caring for him around-the-clock chose the name Julius for the calf.
Care Video: video on the quick action, coordination, and partnership that went into securing giraffe plasma from Columbus Zoo for a transfusion administered to the calf. Click Here.
---
Update (July 14th 4 pm): News came early from Julius' team today because, unfortunately, his condition has taken a turn from critical to dire. Overnight, Julius did not feed well. Then, in the early hours of this morning, his already fragile health suddenly worsened. Quick action by the veterinary and animal care teams has given Julius the only slim chance of making it through the day he may get. A central line has been placed, and Julius is now receiving a life supporting solution called total parenteral nutrition through an IV thanks to the development and donation of solutions from Mt. Washington Pediatric Hospital. The goal is for Julius to remain stable enough through this intervention for the giraffe care team to be able to offer him the nutrients he so desperately needs in the pan he's previously been feeding from. The outlook is dim.
This is an incredibly difficult message for us to share, and we know it is hard for you to read, too. We sincerely thank you for your support and concern and ask that you please wait to hear from us for the next update while the team is hard at work. We know it's difficult. This is heartbreaking for us, too. #TeamJulius
---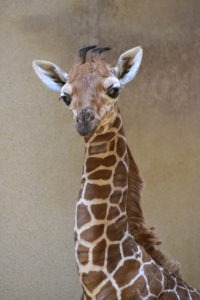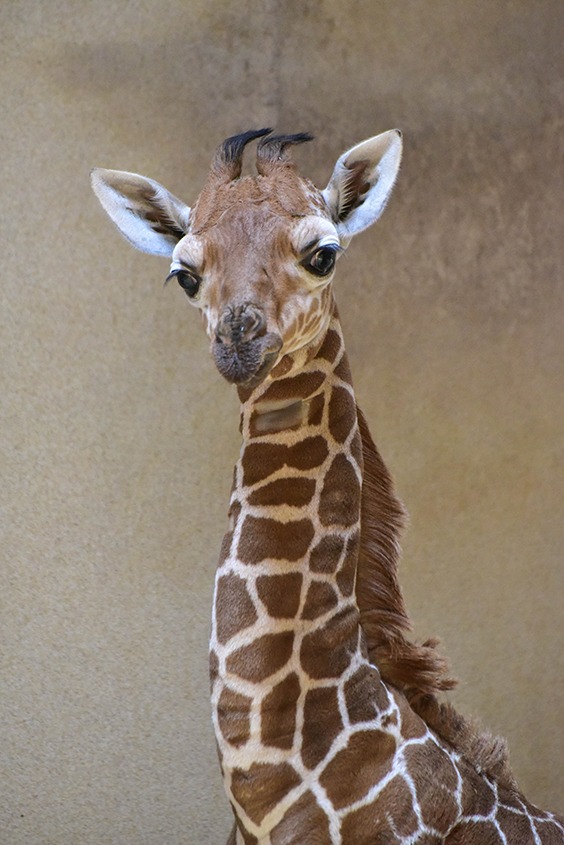 Update (July 13th 7 pm): If you've been following Julius, you know he has sat at rock bottom for the last several days. The only good thing about that position is that the only way to go is up. Julius made a few small improvements today that definitely qualify as little victories in the eyes of the team, especially considering how acute his condition has been.
First, the new pan feeding method continued to be something Julius is interested in today. The giraffe care team was able to introduce more formula into the electrolyte solution he prefers, a step in the right direction nutritionally. Julius' blood work also showed signs of normalizing and indicated his body is beginning to fight infection on its own. These changes in his blood led the veterinary team to give Julius his last dose of antibiotics for the time being — a positive development considering he has required them for nearly his entire short life.
A four-week life to be exact. Yes, Julius is 4 weeks old today! Another milestone. His journey has been a very tough one, and he is still in the middle of a hard fight uphill even with the modest improvements he showed today. His behavior, nutrition, blood work, and more continue to be monitored very closely and the team works constantly to make adjustments to augment each bit of progress and ward off any setbacks they note. Baby steps for Julius today and a big thanks to #TeamJulius for rooting for him these 4 weeks.
---
Update (July 12th 7:30 pm): Expecting the unexpected is a given when working with animals. Monitoring an animal closely and staying open to changing the plans when the animal shows new behaviors or symptoms is common practice for the Zoo team and that is what happened today with Julius. Overnight, Julius made modest progress on a new pan feeding method with an electrolyte solution, providing a small glimmer of hope that he may be able to provide nutrition for himself through drinking. This new development was enough to delay the procedure planned to sustain him intravenously, so the team made the decision to put that planned intervention on hold for now.
This news deserves a small sigh of relief, but, unfortunately, Julius is still in critical condition and will need to continue to make strides feeding, gradually accepting more formula into his pan feeds, to improve overall. The pan feeding method the giraffe team is working on allows Julius to drink from a shallow bowl rather than a bottle. It's unconventional, but any method where Julius drinks is a good one at this stage. The giraffe care team will spend another night here monitoring Julius and continuing to intensively work with him on feeding. As they so often do with wild animals, unexpected developments will likely continue to pop up, but we know we can count on a few constants — the talent and passion of the professionals working with Julius and the steadfast support of you, #TeamJulius.
Please note, one of the best ways you can support the team is through patience and understanding that they are working extremely hard on their number one priority — Julius. Updates will continue to be posted when those same people who are tirelessly working with him have a free moment to share news. We thank you for your concern and unwavering hope.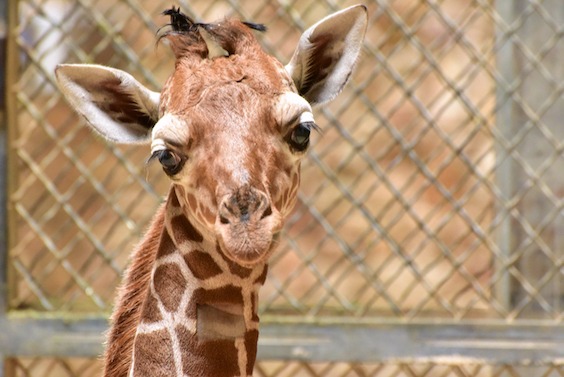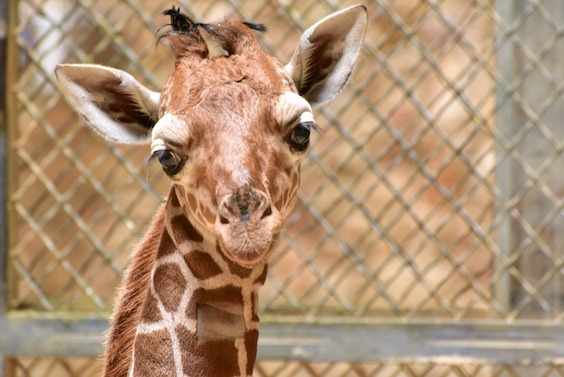 ---
Update (July 11th 5:30 pm): There are many minds, hands, and hearts pulling for Julius to improve right now. Throughout Julius' hourly care, countless phone calls, emails and more have been exchanged between the Zoo team and animal experts, additional veterinarians, and even human medical specialists. This type of collaboration is common among AZA-accredited organizations like ours but is particularly humbling at critical times such as this.
After consulting many experts, exhausting other treatment options, and observing Julius today, the team is beginning preparations for a major procedure tomorrow. Julius is already being provided additional fluids, vitamins, and antibiotics to give him the best chance of surviving the impending medical intervention necessary to stabilize him. There are serious risks, but Julius could not be in better hands than the Zoo's veterinary and giraffe care teams during this treatment.
We know the hours will pass just a little slower tonight and tomorrow for the many Julius supporters waiting to hear how his care through the night and into the procedure tomorrow go. They will for us too. We've said it before and will again. #TeamJulius is strong, especially when Julius is at his weakest, and for that we thank you.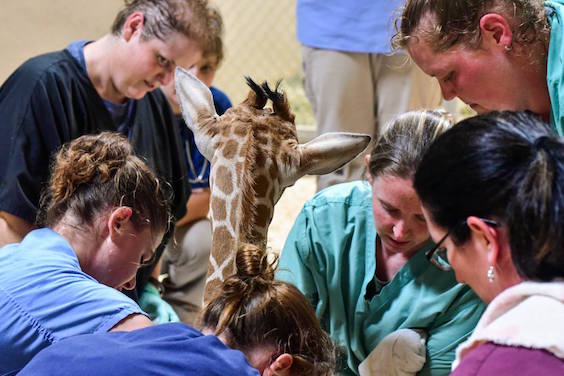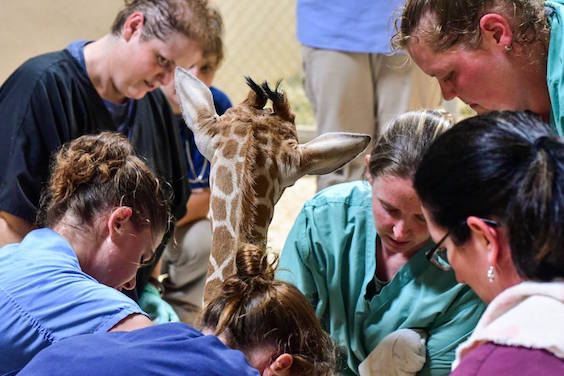 ---
Update (July 10th 8 pm): Deliberate care and observation continue 24 hours a day. The critical plasma transfusion Julius received yesterday, along with antibiotics and fluids, resulted in slight improvement in his blood work today. In this tentative window of improved stability, the giraffe care team has been pouring all of their energy, skill, and the collaborative knowledge of the Zoo veterinarians and other experts they have consulted into bottle feeding. Successful bottle feeding is vital for providing Julius nutrition and improving his health moving forward.
We won't sugar coat it, Julius and the Zoo team are in a very hard spot right now and there is still work to be done. Thank you for keeping Julius in your thoughts and hearts, #TeamJulius. Your support continues to amplify the passion and commitment of the team as they work through the night.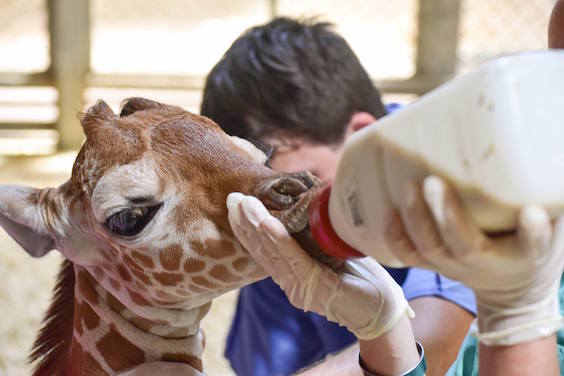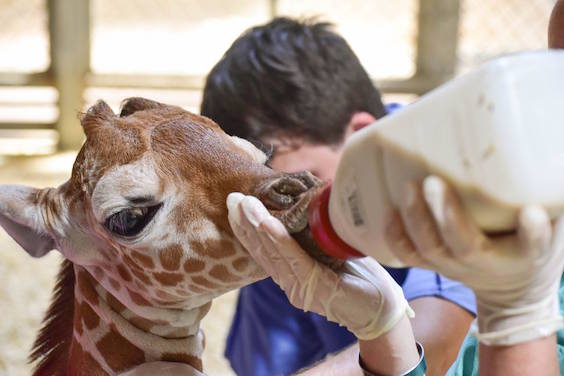 ---
Update (July 9th 6 pm): Julius' intensive care now continues around the clock. After the worrisome change in his blood work yesterday, the team quickly put into motion a critical care plan for Julius including preparing for an emergency transfusion of giraffe plasma donated by our partners at Cheyenne Mountain Zoo. That transfusion was successfully administered today and the giraffe care and veterinary teams are monitoring the results of the procedure closely while continuing to work systematically with Julius on bottle feeding.
It's been a long day for the team that will continue into the night as Julius is cared for moment by moment. The number one priority is Julius health, so expect that updates may not be as frequent or prompt during this challenging time. The local, national and even international concern for Julius continues to awe us. Thank you for your tireless support to match the determination and effort of the team here.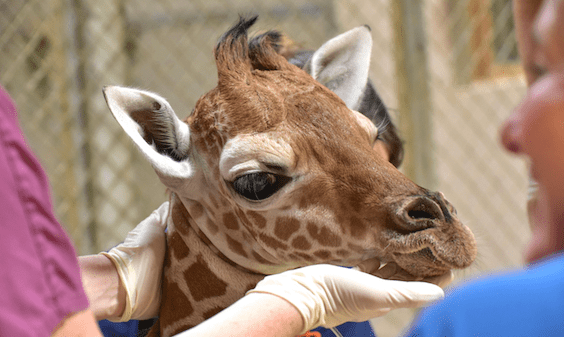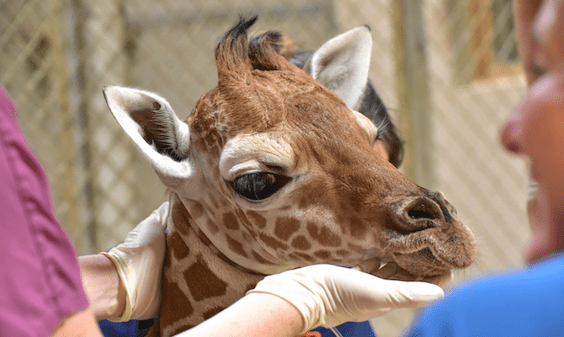 ---
Update (July 8th 10:30 am):
JULIUS UPDATE: This update is hard to share this morning. A sudden and major change in Julius' blood work is a serious concern for the giraffe care and veterinary teams. Julius is now in an intensive care situation as the team works to stabilize him while continuing to focus efforts to get him feeding from a bottle.
We know this news is difficult for all of the #TeamJulius members who've been rooting for him to improve these three weeks and who continue to cheer and pray for our little guy to keep fighting. We can only assure you that the Zoo team's resolve, expertise, and care are Julius' best allies right now. Not only are our experts critically caring for Julius hour-by-hour, but Zoo staff are also regularly communicating with colleagues at AZA-accredited zoos across the country who have worked with similar cases. #TeamJulius is big and strong especially when Julius needs strength the most.
Another update may take longer than usual as the team focuses all of their energies on Julius so we thank you for your support and patience in these next pivotal hours and days.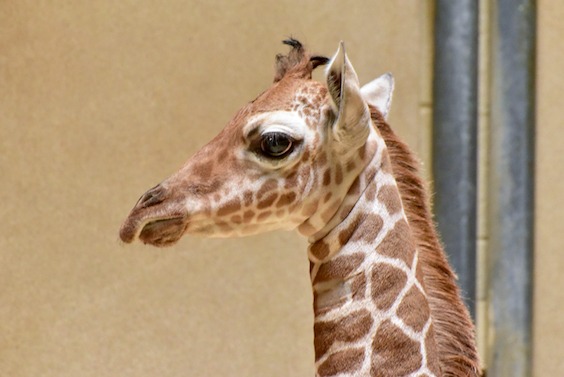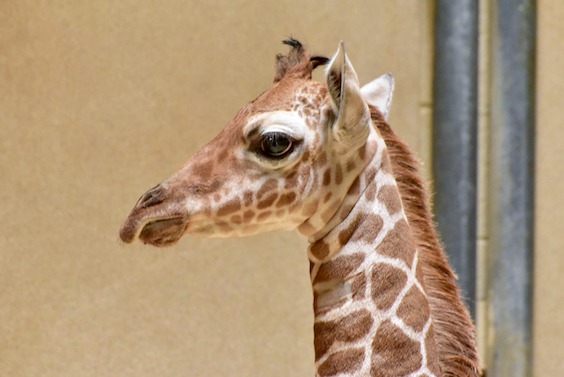 ---
Update (July 7th 3 pm): Julius, Kesi, Willow, and Juma all together. There are not significant changes to Julius' health or feeding to report today, but there is a major social change. Julius' 5-month-old half-sister Willow and her mom Juma have met him before through sight, smell, and even some touch through barriers, but now they are sharing space for the first time inside the Giraffe House (which remains closed to the public).
Giraffes are herd animals by nature, so the introductions went very smoothly. You can even see big sister Willow grooming Julius' face in this video. Our hope is that this change will not just provide Julius and Kesi additional social stimulation but also potentially encourage Julius to be more active and work up a stronger appetite for his feedings. The giraffe care team continues to watch the results of each adjustment they're making including this one closely.
Zoo visitors should note that this weekend Willow and Juma may not be viewable on exhibit as they spend more time indoors with Julius and Kesi. Ceasar and Anuli are expected to be outdoors and the Giraffe Feeding Station will be open to giraffe lovers.
---
Update (July 6th 7:30pm):
Today we're living by the adage "it doesn't happen overnight." It's said so often because it's true in many cases, especially Julius' right now. Over the next few days, Julius will transition to a new feeding schedule with the goal of him bottle feeding more successfully and gaining weight after losing 2 lbs today. The adjustments that the giraffe care team are making to enhance Julius' progress may create small changes or exciting breakthroughs. Either way, it will take time and careful observation to fully assess if any one adjustment does help Julius get accustomed to the bottle and gain the incremental weight a typical giraffe calf would be putting on at three weeks of age. Yes, the little guy is three weeks old today — a silver lining of the day. It has taken a huge effort by many to get him this far and the journey continues with every new day.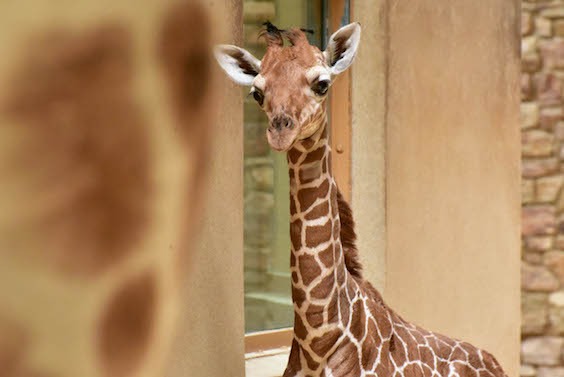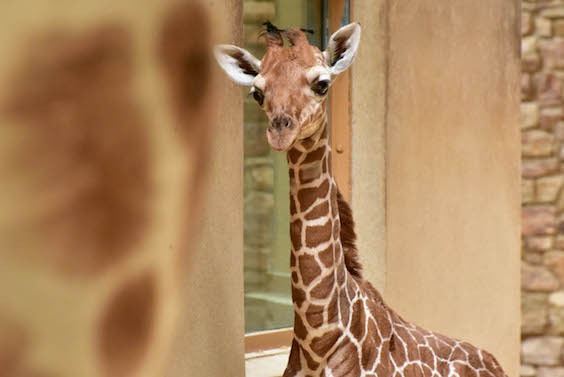 ---
Update (July 5th 8pm):
While his blood work and health remain overall strong, the biggest challenge facing Julius continues to be consistent weight gain. Today, he was down 2 lbs which is prompting the giraffe care team to rethink his formula and try new mixtures in an effort to increase the chances for more rapid gains. A lot of fans have asked if there are any other health challenges that could be affecting his weight and as of now the team has not discovered any other problems that are contributing. The team continues to keep a watchful eye for anything unusual or out of the ordinary. Julius is a giraffe calf who simply had a rough start, something that's not uncommon for some giraffe newborns.
His bottle feeding practice continued today with modest improvement and tomorrow there'll more of the same. We appreciate your patience as we all await even more positive news about this nutrition and weight. The outpouring of concern continues to overwhelm everyone at the Zoo and we're grateful for your support of Julius, Kesi and the entire animal care team.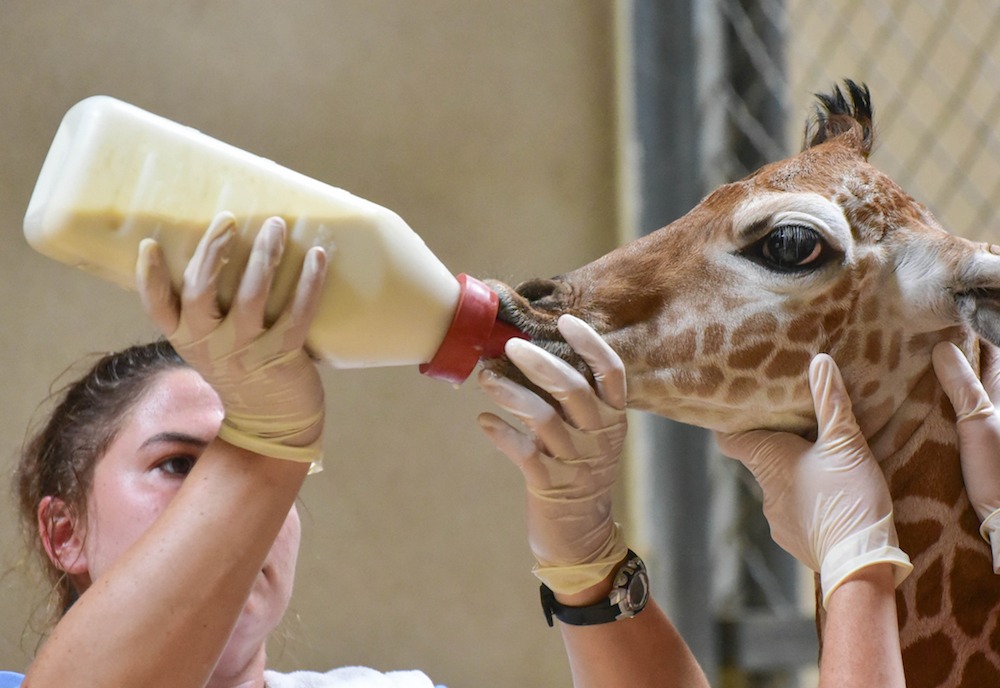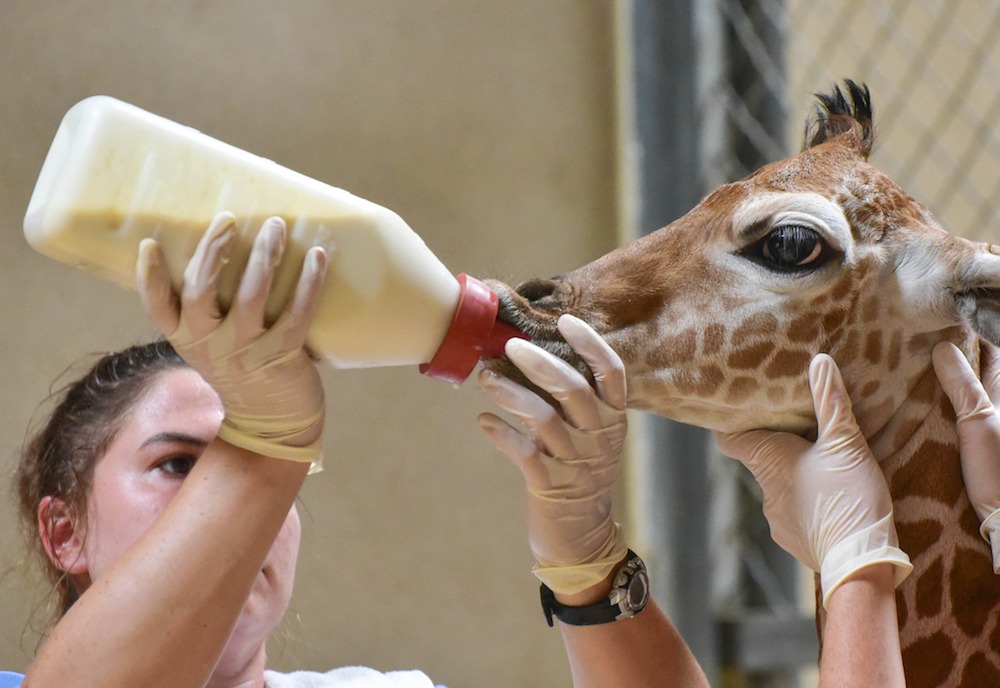 ---
Update (July 4th 9pm): It's been a long holiday for the team, as work continues to get Julius more comfortable with daily bottle feedings. It's still a work in progress, but with a focus on making progress. His weight has remained stable since yesterday (no gain, no loss). With all the hands on care he's received, Kesi remains very close and attentive to Julius after each time the giraffe care team works with him. Her interest in him doesn't change and that continues to play an important role in his overall wellness and his ability to stay well connected to the herd. More progress is yet to be made in the coming days and we hope to have more good news to share. Happy 4th of July to all the fans who continue to show such support for #TeamJulius and his care.
---
Update (July 3rd 7pm): His weight as of today is 159lbs. Nutrition remains the top concern for Julius and bottle feedings continue to be a daily part of the routine. He's still not mastered it, but with every time comes more important practice.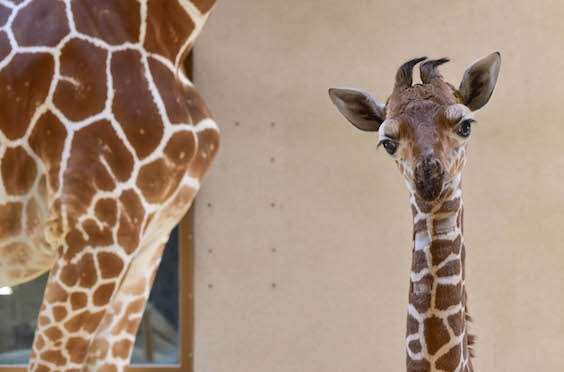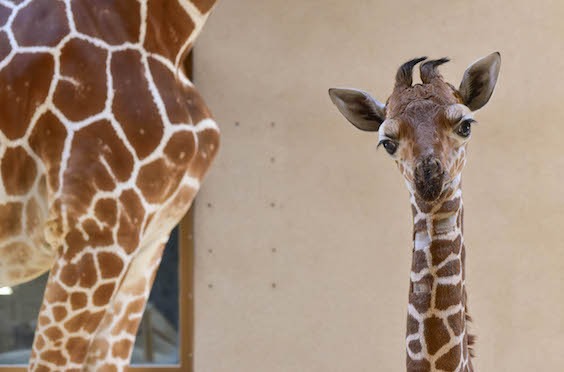 The giraffe care team has noted his strength seems generally good and overall the team is remaining optimistic, despite the day-to-day nature of his situation. Beyond this there's not much new to report which is good news for another busy day behind-the-scenes in the Giraffe House. Many fans have messaged us privately wanting to know how they can help support Julius' care. As a nonprofit organization the Zoo relies in large part on donations to fund animal care and conservation work. If you'd like to make a gift on behalf of Julius and his care click here. Until tomorrow, good night from #TeamJulius.
---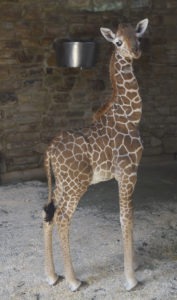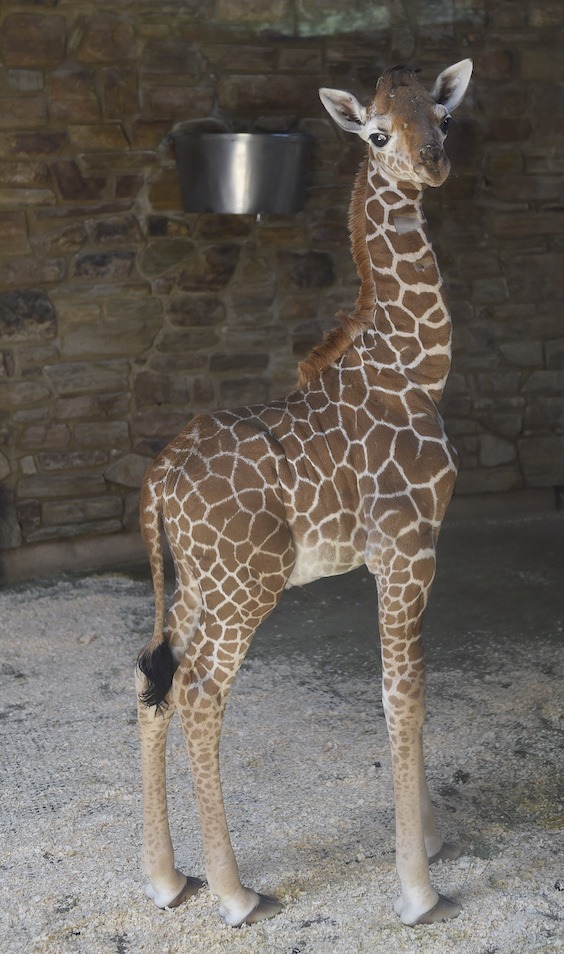 Update (July 2nd 7pm): Some days bring big change and others bring more of the same. In the Giraffe House today, Julius remains stable, which is good, and the team's care plan continues to include what it has for several days now — supplemental nutrition, training on the bottle and efforts to improve Kesi's milk production. No significant breakthroughs have been seen in the last 24 hours, but thanks mostly to fluids provided by the care team, his weight is up 5lbs since yesterday, while concern still remains high for his health.
Tomorrow is a new day and the care for Julius continues. We, like you, will hope for more positive progress and keep you updated with any new developments from behind-the-scenes. Thanks for following this little calf's story which continues to be written along with your support.
---
Update (July 1st 7pm):
The good news is Julius' blood work remains stable. His weight, though, dropped by a few pounds since yesterday, so additional fluids and formula remain important to ensure his hydration and nutrition are strong. The giraffe care team has been working several times a day with him on bottle feeding, something he has yet to perfect, but this skill takes most calfs much time to master. Getting him even more comfortable with a bottle is still a main priority for the team to ensure continued weight gain. The watch for more nursing attempts continues, but today's weight loss indicates nursing hasn't been happening often enough to benefit him. The chief concern is Kesi's milk production. In order to help along any natural nursing, the team is providing Kesi special medications that may help improve her milk quality and the chances that Julius may be able to receive enough of it. It's one of several efforts to give any potential nursing the best chance possible. We'll continue daily updates to keep you up to speed on his progress, which all in all remains positive. Thank you for your concern and for your patience as the Giraffe House remains closed for the wellbeing of Julius and Kesi. The team is also making every effort to provide the other members of the herd access to their outdoor habitat so guests can see Casear, Anuli, Juma and Willow as often as possible. Thanks for your continued support and being part of #TeamJulius
---
Update (June 30th 5pm): A day of ups amid some downs. The giraffe care team has witnessed Julius attempting to nurse from Kesi, a welcome surprise to the entire team. While this development is encouraging, it's being dampened by more signs Julius is still not gaining the weight he should. Today, the team provided him additional fluids and supplemental feedings based on his continued need for them. While the sight of potential nursing is a significant breakthrough, one everyone was thrilled to see, it's clear the nourishment he may be receiving from Kesi is not enough for him. There could be any number of reasons including Kesi's milk production and the frequency of this new nursing, but the exact reason is unclear at this point. As a result of this development, the giraffe care team will be watching his weight even more critically over the next few days to determine what role nursing may be playing. His intensive care and bottle feedings will continue as his need for nourishment does. We know you remain hopeful, as we do, that nursing continues and improves, but we also want you to know that within this good news is still cause for some concern. Thank you for your continued support as the Zoo's team has been so humbled by the outpouring of positive thoughts for both Kesi and Julius and his ongoing care. We'll continue to bring you new updates as we have them.
---
Update (June 28th 7pm): The Zoo's newborn giraffe calf is two weeks old today! A week ago Julius was fighting for his life. Today, he's a different giraffe, much more full of life.
The team is still taking his care day by day, celebrating every milestone he reaches and every new experience he has. Like this little victory — Julius explored a new space under the watchful eyes of his mom Kesi and the giraffe care team. While the rest of the herd was on exhibit outside today, Julius and Kesi roamed from one side of the building to the other, through several of the adjacent indoor exhibit spaces now open to them. He even tried out galloping.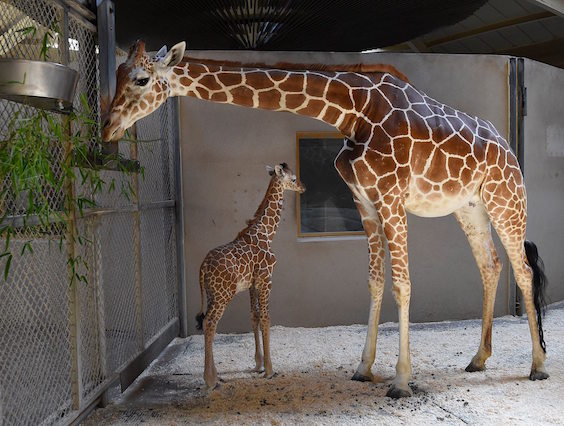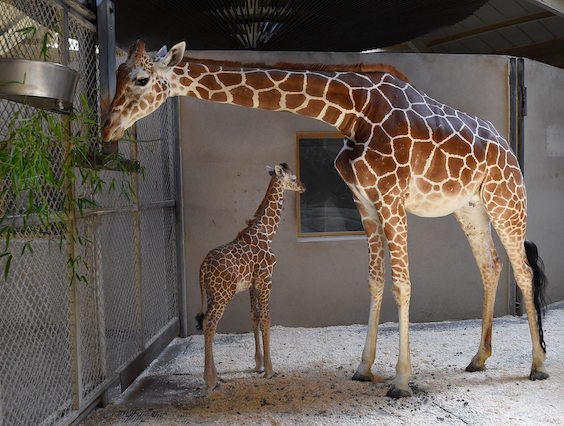 ---
Update (June 28th 4pm): Getting groomed by his mom, exploring his surroundings, and investigating his water bowl face first — these are all things the Zoo's newborn giraffe calf did today. For the team, watching Julius act like the young giraffe he is isn't just cute, it's very encouraging because it's another sign he's on the road to recovery.
---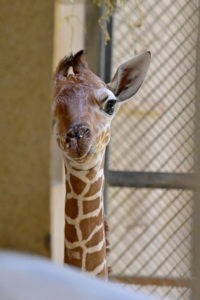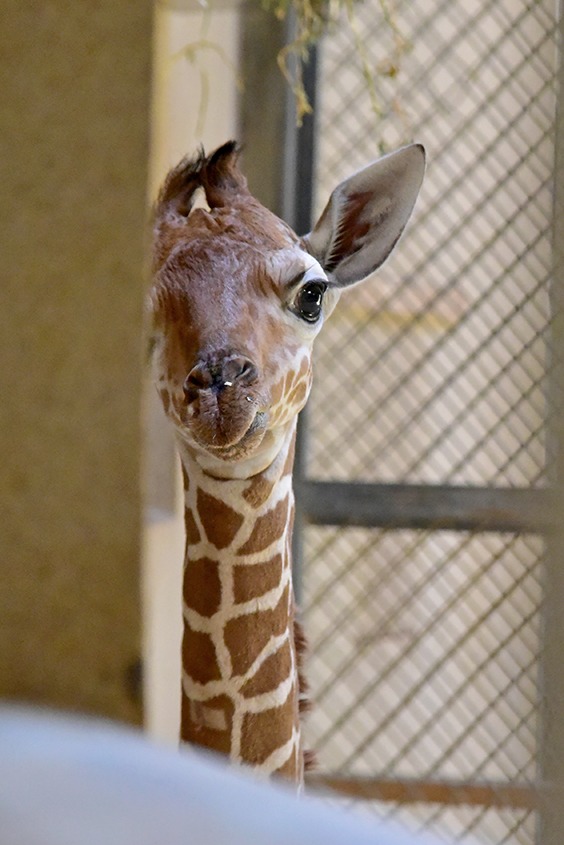 Update (June 27th 5pm): A peek at how the Zoo's newborn giraffe calf is doing today. Julius is more bright, alert and active today and his strength continues to impress us. He also gained an additional 5 lbs since yesterday.
These steps towards recovery may not seem momentous, but only days after he was receiving critical care, stability is truly an achievement for Julius and the team working with him. Thanks for celebrating every little victory with us, #TeamJulius.
---
Update (June 26th 6pm): With Julius' blood work now stable, the team continues to focus their energies on acclimating the newborn calf to bottle feeding. It's a learning experience for him and Julius is more eager during some feedings than others — all part of a normal learning curve.
The initial reason Julius did not naturally nurse is unknown, and no new attempts to nurse from his mom have been witnessed by the team. Now, 11 days after giving birth, it's unlikely Kesi is still producing milk. Thankfully, the team is ready and able to provide Julius' nutrition for the foreseeable future
---
Update (June 25th 6:30 pm): Another day and more hope for Julius. The Zoo's ten-day-old giraffe calf (can you believe it's been 10 days already?) gained 4 more lbs and showed solid results in his blood work and exam today. He's getting stronger every day, too — a sign the whole team is very encouraged by.
Julius and his mom Kesi continue to spend all of their time, aside from his feedings and exams, together. His almost 5-month-old half-sister Willow, dad Cesar and the rest of the herd can regularly be seen outside by Zoo guests as the Giraffe House remains closed.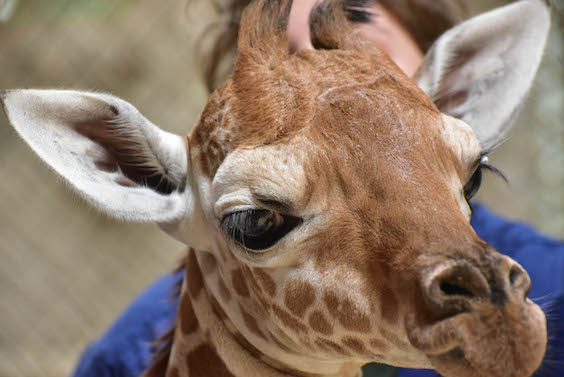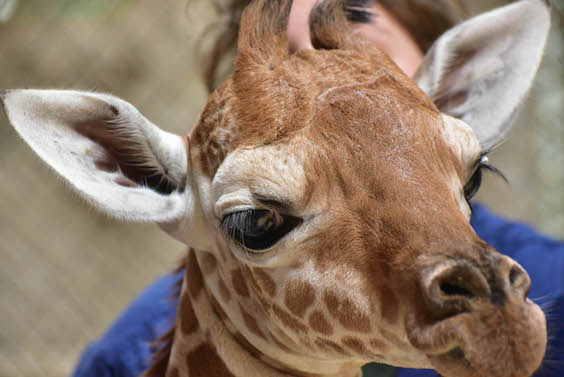 ---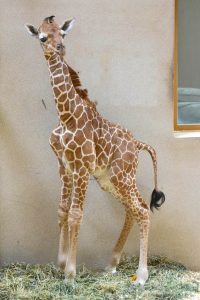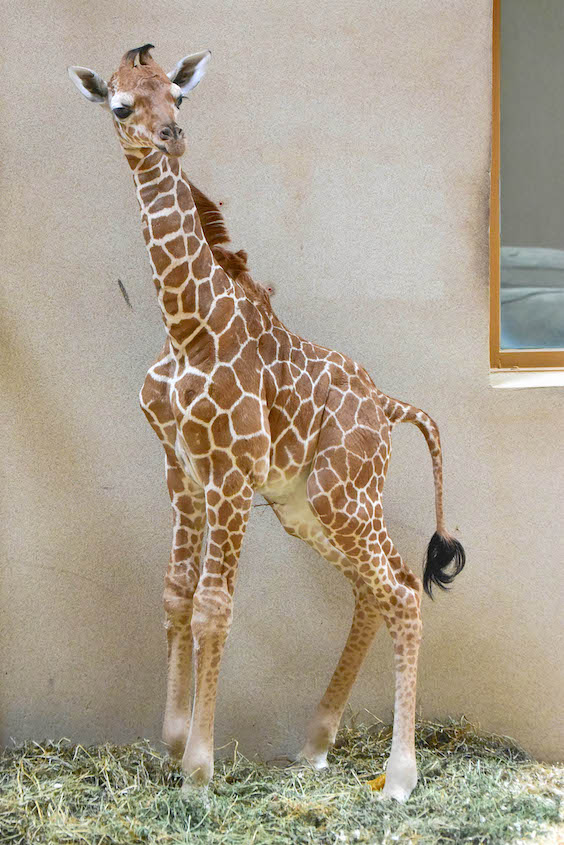 Update (June 24th 6 pm): Two good days in a row for Julius. The Zoo's newborn giraffe has improved significantly in the last 48 hours. The team even described him as "feisty" today because of his strength and alertness. His promising response to intensive treatments and continued improvement bottle feeding have led the veterinary team to begin decreasing the frequency and intensity of his treatments. And, in more good news, he now weighs 160 lbs — that's an 8 lb gain from yesterday!
As #TeamJulius has continued to grow stronger so has he so thank you for your tremendous support of Julius and the animal care and veterinary teams working with him.
---
Update (June 23rd 12pm): Little victories for Julius. This morning, the week old giraffe calf successfully drank a 1/2 bottle of the milk supplement offered to him by the animal care team. He also gained 4 lbs since yesterday — he his now 152 lbs. Julius is not out of the woods yet, but these are both signs of gradual improvement. Thank you for your continued support, #TeamJulius!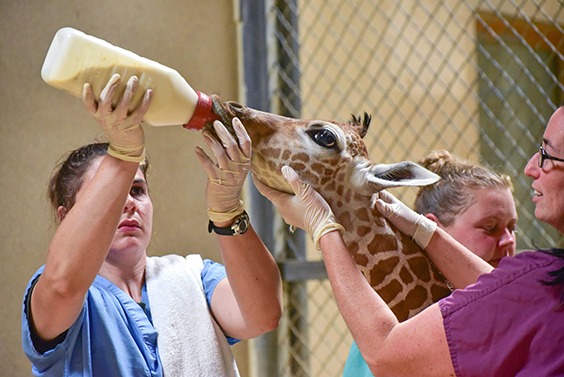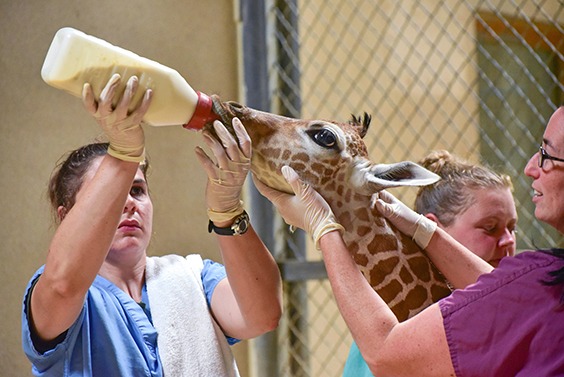 ---
Update (June 22nd 7pm): Today was a challenging day for the Zoo's newborn giraffe, now a week old, and the teams caring for him. The calf did gain 2 more lbs, but general weakness and changes in his bloodwork caused concern for the team, which has lead to more intensive care. He has been a cooperative patient (see him here resting while receiving care) and has responded well to treatment for now.
As many of us know from our own experiences with human health, illness can be a rollercoaster of ups and downs. The things that stick out in times like these are the support of caring individuals like you, our Zoo supporters, and the exceptional care and treatment from talented professionals like the Zoo's animal care staff, veterinarians and vet techs. He's still fighting, and we know he is in good hands.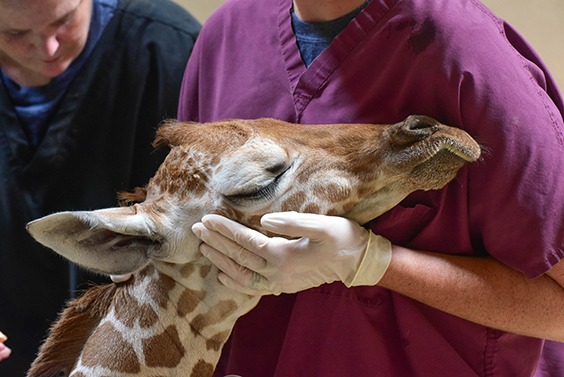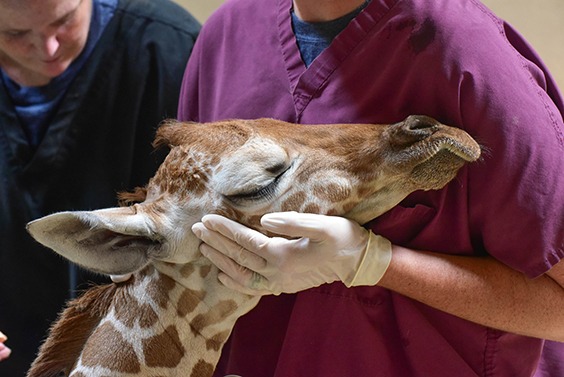 ---
Update (June 21st 3:30 pm): Happy #WorldGiraffeDay, everyone! It's fitting that this special day brings more incremental improvement for the Zoo's newborn giraffe calf. He has gained 2 lbs since yesterday and his blood work currently appears stable. Also, keepers noted him taking a nap while they were present for the first time! These are tiny signs that the tireless work feeding and monitoring him by the Zoo team is helping.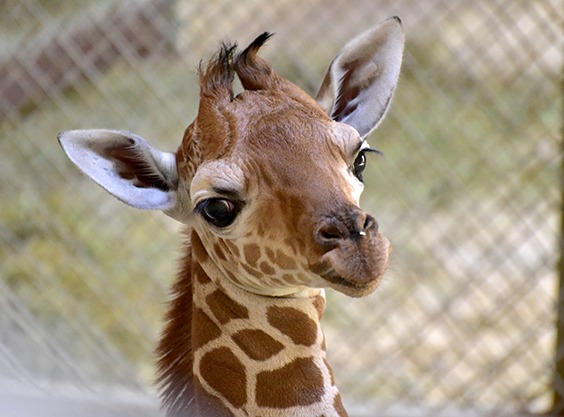 ---
Update (June 20th 8 pm): Baby steps towards progress for the Zoo's newborn giraffe. He has gained 3 lbs since yesterday and the Zoo team continues to work with him on bottle feeding. Aside from during supplementary feedings and veterinary checks, he spends all of his time with Mom Kesi. She is a great mom and has remained calm and attentive through this process.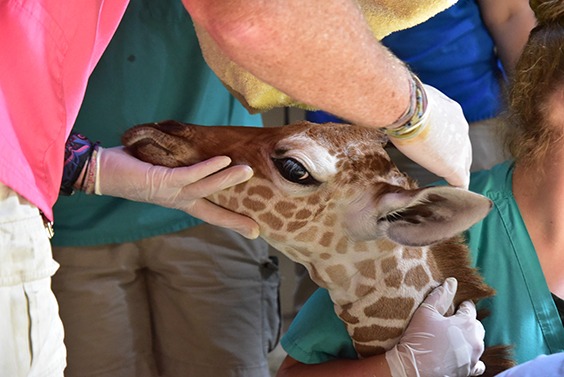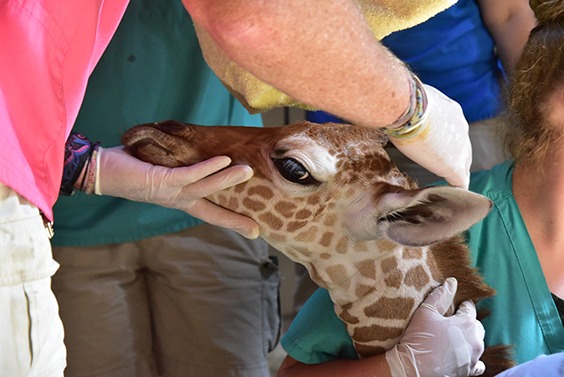 ---
Update (June 19th 12 pm): He's very alert today, but overnight the Zoo's newborn giraffe lost weight, so the team is moving forward with bottle feeding. The calf's face is covered to calm him and simulate the sensation he would feel from his mother's belly overhead while feeding. It often takes time for a calf to latch on to this new skill, so it is a work-in-progress and takes patience.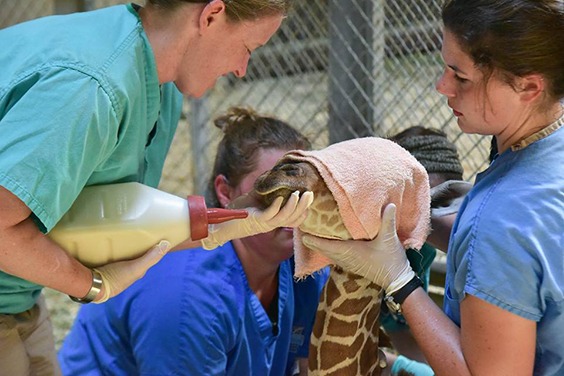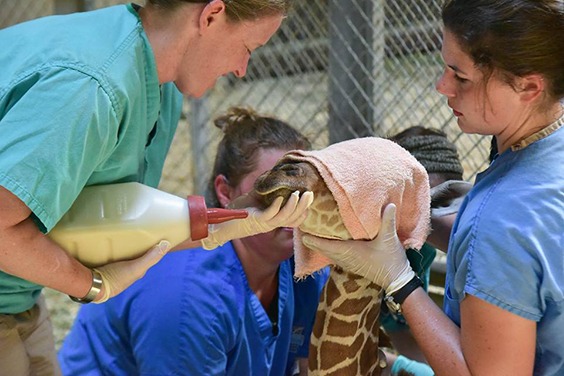 ---
Update (June 18th 3 pm): He's 3 days old and continues to be monitored closely by the animal care team but is showing some progress. The Zoo's newborn giraffe calf has gained 2 lbs in the last day and while he has not been seen nursing, his blood work today revealed slight improvement.
In this first look inside the Giraffe House, you'll see him standing and walking after a veterinary check. His mom Kesi is reentering their stall immediately after the medical team has moved safely out. Kesi is a very attentive mother and continues to do a great job protecting and tending to her son.
---
Update (June 17th 8 pm): The Zoo's giraffe care and veterinary teams are working together to provide specialized care to the newborn calf whose initial blood work indicated that he was not receiving the necessary antibodies to help protect him from disease or infection. Today he received a feeding of a special colostrum formula to help kickstart his immune system. The team was pleased to discover he gained 4 lbs in the last day and remain cautiously optimistic as they monitor he and mom Kesi's interactions closely for signs of nursing.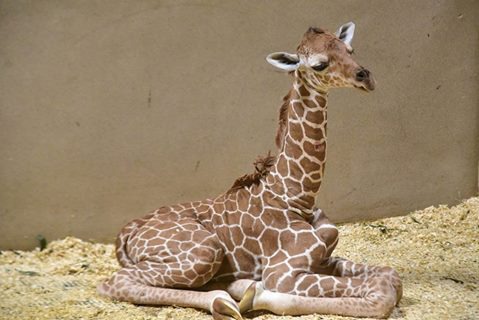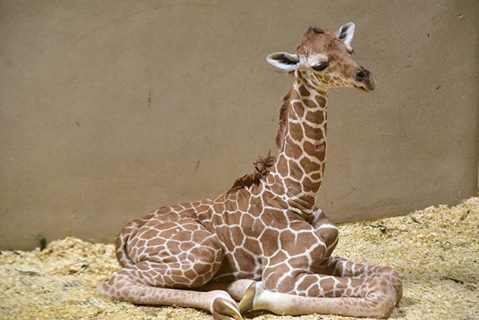 ---
The Maryland Zoo has quietly welcomed the birth of a 143-pound, six-foot-tall male reticulated giraffe during the early morning hours of Thursday, June 15, 2017.
Zookeepers were on overnight watch when seven-year-old giraffe Kesi went into labor; the calf was born at 5:49 am. "Although the birth went well and he was on his feet in only 20 minutes, the calf has not been actively nursing," said Erin Cantwell, mammal collection and conservation manager. "We did note attempts to nurse, but his initial blood-work indicated that he was not receiving the necessary antibodies to help protect him from disease or infection."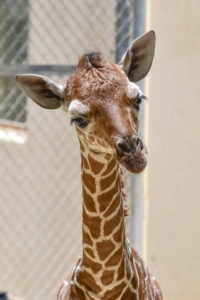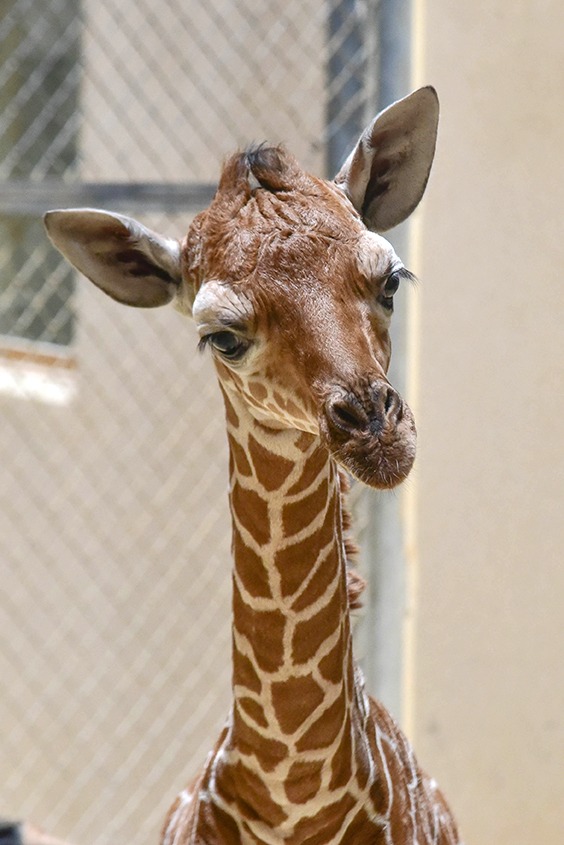 Zoo staff, including the Giraffe House team and veterinarians, began to supplement his feeding with a special colostrum formula early Friday morning. "We are cautiously optimistic that his natural instinct to nurse will take over, but we are prepared to supplement his nutritional needs until that happens," continued Cantwell. "Despite the calf's lack of nursing ability, Kesi is proving to be an amazing mother. She is very attentive and protective of him as well."
Mother and calf are bonding in the Zoo's Giraffe House and are not yet viewable to the public. The building will remain closed during their first days together to provide them peace and quiet, while staff continues to monitor the calf's growth and provide any necessary support. The other giraffe may be outside and visible during different times of the day until the herd can be fully introduced to the new calf.
Average gestation for a giraffe calf is approximately 15 months. Giraffes give birth while standing and, unlike humans, the calf is born hooves-first. The calf then proceeds to stand, usually within one hour after birth. In the wild, it is important for a newborn giraffe to be able to stand quickly to elude predators. Giraffe calves typically grow 3 centimeters tall each day during the first week, nearly doubling their height in their first year.
Kesi came to The Maryland Zoo in October 2012 from the Ft. Wayne Children's Zoo in Ft. Wayne, Indiana. Her move to the Zoo was a recommendation from the Association of Zoos and Aquariums' (AZA) Giraffe Species Survival Plan (SSP), a cooperative, long-term management program designed to maintain genetically viable and geographically stable populations of specific species. The calf's father, Caesar, has been at The Maryland Zoo since 2008. "Kesi was brought to the Zoo as a youngster with the idea that she would breed with Caesar once she had matured," said Cantwell. "Anuli and Juma are also here by way of recommendation of the SSP. Very soon, we hope that this little calf will find himself part of a very nice herd that includes Willow, his half-sister born in February."