BABY STEPS: AFTER FIVE MONTHS OF HUMAN CARE TAMPA'S LOWRY PARK ZOO, ORPHANED INFANT CHIMP KEEVA MEETS HER SURROGATE CHIMP MOM
As Baby Continues to Grow and Adapt, Introductions Progress
TAMPA, Fla. (September 2, 2015) – Five month old female chimpanzee "Keeva" has learned a lot in her young life. She can laugh, reach out and grasp objects, stand upright while holding on, hang briefly from a tree branch or play structure, and crawl through vegetation like she's queen of the jungle. Now she faces her most challenging lesson yet … bonding and living with her surrogate chimp mother.
Keeva arrived at Tampa's Lowry Park Zoo in March after her birth mother at The Maryland Zoo was unable to properly care for her. She was matched with Tampa's 32-year-old female chimp "Abby," known for her ability to foster infant chimpanzees.
For the first five months of Keeva's life, a team of primate animal care specialists provided round-the-clock care. Human caregivers fed, carried, groomed and watched over her from a protected location behind the chimp exhibit where the three adult chimps observed.
Earlier this month, Abby and Keeva were introduced, and have spent two weeks getting to know one another, both inside the chimp den and outside on habitat. While the relationship is progressing, more time is needed for the pair to establish a solid bond. The Zoo's other adult females "Twiggy" and "Jamie" have also met Keeva (with Abby present) and will ultimately assume a role of playmate or aunt. The Zoo's adult male chimp, "Bahati," is currently separated for the infant's safety.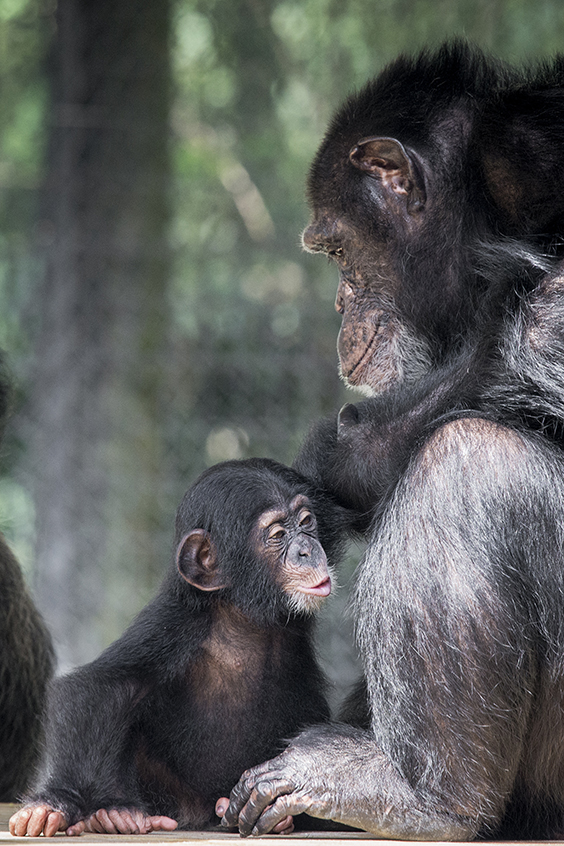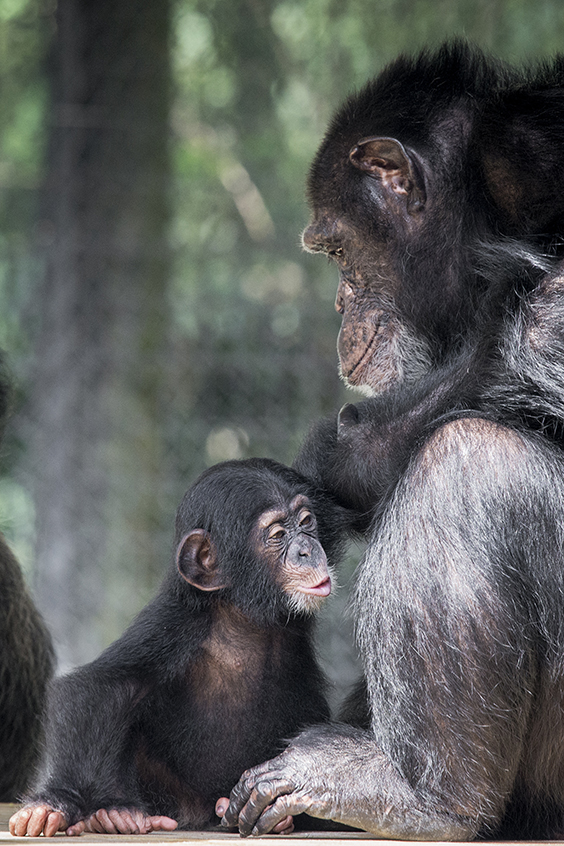 For the time being, human caregivers have transitioned to a role of 24-hour observation of Abby and Keeva together to monitor relationship progress. With all introductions, keepers watch for behaviors and responses which indicate a strong bond. While the two continue to adapt, the Zoo's chimp habitat will remain closed to allow for privacy. Updates on public introductions will follow in time.
The process of integrating a baby chimp into a social group is neither easy nor quick. Introductions move slowly, one step at a time, one animal at a time. Eventually, when Keeva has met Bahati and all the chimps are living together, her family will be complete.
While living at Oklahoma City Zoo, Abby successfully raised two orphaned chimps and contributed to the care of a third. Each introduction process is different and moves at the pace of the primates involved.
Chimpanzees are classified as endangered on the International Union for the Conservation of Nature's (IUCN) Red List. One of the greatest threats to the wild chimpanzees is loss of habitat, the African forest, from commercial logging, agriculture and fires. Poaching and disease also put the wild population at risk.
Tampa's Lowry Park Zoo is a participant in the Chimpanzee Species Survival Plan (SSP) of the Association of Zoos and Aquariums (AZA).
About Tampa's Lowry Park Zoo
Tampa's Lowry Park Zoo is operated by the Lowry Park Zoological Society, an independent 501(c)(3) charitable organization committed to excellence in education, conservation and research. The Zoo is accredited by the Association of Zoos and Aquariums (AZA), and is featured among the "Top 25 Zoos in the U.S"by TripAdvisor (2015) and "10 Best Zoos in the U.S." by Trekaroo (2015). The Zoo is located at 1101 W. Sligh Avenue in Tampa, one mile west of I-275 (exit 48) and is open seven days a week, from 9:30 a.m. to 5 p.m. daily. Parking is free. Visit www.LowryParkZoo.org or call (813) 935-8552 for information. Also find the Zoo on Facebook and Twitter