Meet Maria L., she's an animal keeper here at the Maryland Zoo! This week is National Zookeeper Week, so all week we will be profiling members of our amazing animal team from all around the Zoo. How did Maria end up feeding penguins at our new Penguin Coast exhibit? Read her profile below and find out!
What kind of animals do you work with or what area?
I work with a variety of birds including African penguins, crowned cranes, ground hornbills, white storks, white breasted cormorants, and Caribbean flamingos. Our team also takes care of one mammal species, prairie dogs!
How long have you been working at the zoo?
Just over a year.
What steps did you take in order to become an animal keeper?
I attended Towson University where I majored in Organismal Biology and Ecology. I completed internships as well as volunteered my time, including here at the Maryland Zoo during college.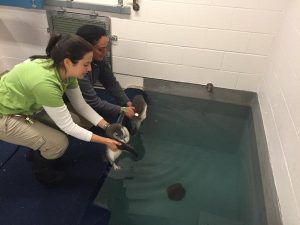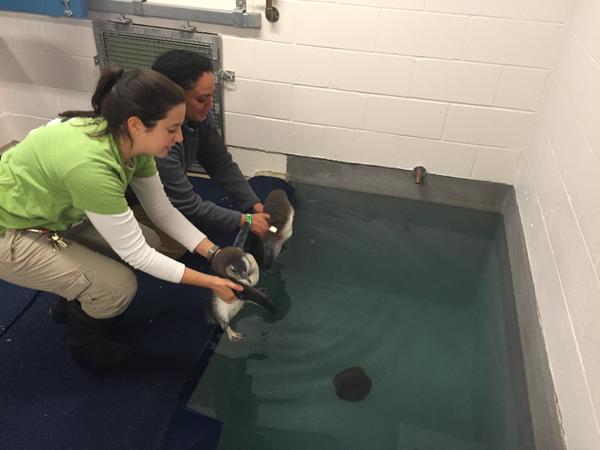 What is something you do everyday for the animal that would surprise us?
During chick rearing season we actually have to teach African Penguin chicks how to swim! We start them off in a sink and gradually work them up to the large pool.
What do you want the public to know about zookeeping?
You're not just someone who takes care of animals. You're an educator, trainer, builder, and so much more.
Why did you want to become a keeper?
I've always had a passion for wildlife. I can't remember a time when I wasn't taking care of an animal!
What hobbies/interests do you have outside of your zoo life?
I enjoy reading, taking care of my pets, and attending other zoos, aquariums and reptile shows.
What is your favorite part of a typical day at the zoo?
Watching your animals explore, play, and interact with their enrichment.
What is the most challenging part of your job?
Working in some of the most unpleasant weather. Whether it's 100 degrees or there is 3 feet of snow we are out there!
Where would you travel to see animals, or what places have you traveled to?
I'd love to see the San Diego Zoo, Georgia Aquarium, as well as some international zoo like the London Zoo.
What do you think is the most important reason to support the zoo?
To be able to continue our efforts in conservation and education of not only endangered species but all species of animals.