The Maryland Zoo in Baltimore is pleased to announce the birth of three common warthog piglets, born on Sunday, May 3, 2015. This is the fourth litter for Kumari, the Zoo's 10-year-old female warthog.
The Zoo's animal care staff had been keeping a close eye on the pregnant female, and were happy to find the newborn piglets the morning of May 3rd. "As with her previous litters, Kumari is doing a great job caring for her babies," stated Carey Riccardione, mammal collection and conservation manager at the Zoo. "Warthogs usually give birth to three piglets on average, so we've hit the mark with this litter of two males and one female."
"During their first veterinary exam, the piglets weighed between approximately 1.5 pounds each and they have grown to almost ten pounds apiece," continued Riccardione. Mother warthogs nurse and care for their offspring until they are about 21 weeks of age, at which point they have to fend for themselves. "Right now, they are only 6 weeks old and just beginning to thermoregulate. With the warm summer weather approaching, this is a good time to start introducing them to the outside exhibit yard."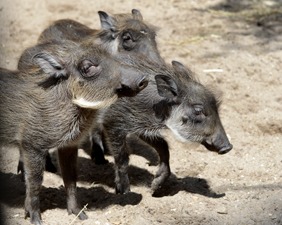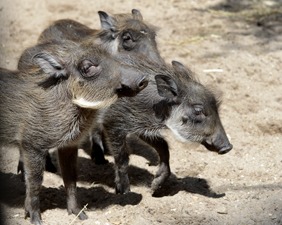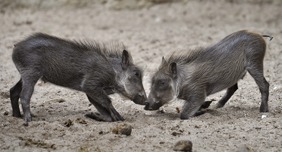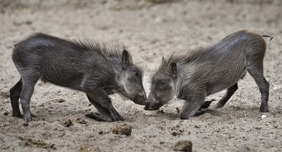 The common warthog (Phacochoerus africanus) is a species of wild pig native to Africa. They are commonly seen in Africa's open grasslands but also seek out denser vegetation. Warthogs can also survive in desert fringes. The Maryland Zoo's warthogs are in the African Journey section of the Zoo near the Giraffe Feeding Station.
The birth is the result of a recommendation from the Warthog Population Management Plan (PMP) coordinated by the Association of Zoos and Aquariums (AZA). PMPs provide breeding recommendations to maximize genetic diversity, with the goal of ensuring the long-term survival of the captive population and the health of individual animals. The Warthog PMP will also determine where the piglets are to live as adults, based on an assessment of the warthog population in American zoos.