What does the arctic fox keeper say? Find out in this creature feature about the Zoo's two arctic foxes. The following interview is with Becky Lynagh, animal keeper at The Maryland Zoo for over 12 years!
Becky and a team of keepers care for the resident animals in Polar Bear Watch which include the arctic fox, ravens, and polar bears as well as the Zoo's rhinoceros, zebras, ostrich, sitatunga, tortoises, chameleons, and African leopard. When asked what her favorite resident animal that she cares for directly is, Becky answered the bears (polar bears).
Where do Arctic Foxes live in the wild?
What adaptations do they have to help survive the cold?
Arctic fox have thick fur with an undercoat which keeps them warm and insulated in cold environments. Their feet are furry which help hold warmth and fend off cold when walking across snow and ice. You will see a noticeable difference in their coat in the summer time when they shed out to stay cool and develop their blue grey fur referred to as their "blue phase." You will see a noticeable difference in appearance of our fox in the summer versus winter months.
What is the biggest difference between their behaviors from winter to summer?
Arctic fox are more active in the winter, as they are not as uncomfortable as in the summer months with the heat. In the summer you will notice them sleeping and hiding in shaded areas more often.
What are the names of the Zoo's two arctic fox?
Sly is the hybrid male, is 13 years old and weighs approximately 12 to 13 pounds.
Cleo is female, 8 years old and weighs approximately 9 pounds.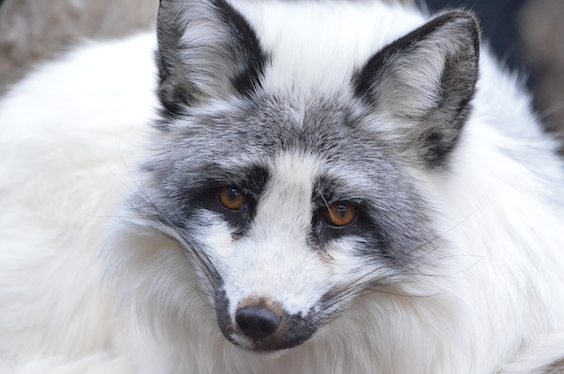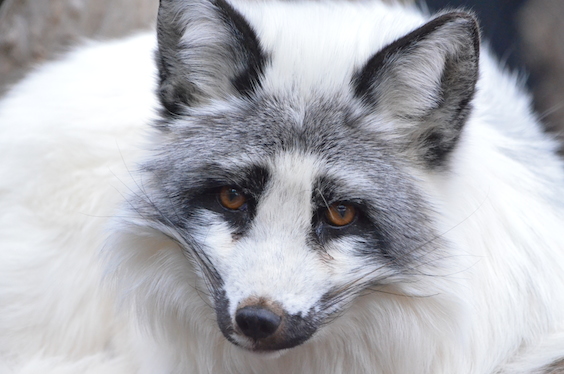 What are their personalities like?
Sly is a typical "old man" and is a little less active than his younger companion. He sleeps more often, unless food is involved. Cleo, on the other hand, is more fox-like and displays behaviors more closely related to an average fox. For example, she shies away from keepers, is more cunning, more active, and has more traditional instinct than Sly.
What do they eat?
In the wild arctic fox eat meat. They trail polar bears and scavenge left over meals when the polar bears are finished eating their prey. Here at the Zoo, the arctic fox are fed a diet of dog chow, meat and fish.
What are some differences between Arctic foxes and the red fox species native to Maryland?
You will notice that fox native to Maryland tend to be taller, leaner and have fluffier tails than the arctic fox. Sly, as a hybrid, resembles the body shape more closely of a native red fox. Arctic fox are shorter, more compact, and the shorter legs is an adaptation to the cold so their legs stay warmer in the harsh environments. Also, the arctic fox would hunt and eat different things than fox in Maryland as they are trailing polar bears, and fox here tend to eat mice and rodents found in their environment.
Would you say that the fox are high-maintenance Zoo animals?
The fox are a low maintenance animal at the Zoo. Keepers need to check their outside exhibit area, feed them each morning, as well as clean up feces, but other than that the fox are low maintenance. The pair does dig a lot which is typical fox behavior, so every morning keepers grab a bucket of dirt kept in the office and fill in the holes dug the day before. Cleo also likes to nibble and chew on the mesh, so keepers also keep an eye on the exterior exhibit mesh daily.
What is the biggest threat to the Arctic fox in the wild?
Arctic fox are not currently threatened in the wild. If a threat appears in the future, it will most likely be due to Global Climate Change. If the polar bears are unable to hunt and eat, the arctic fox have a main food source taken from them.
Do you have any fun facts to add about arctic fox in general or the Zoo's resident pair?
Native red fox visit our arctic fox, especially if and when Cleo is in heat. Evidence of their digging from the outside of the exhibit in an attempt to get in is apparent from time to time.
There is not a skunk in the exhibit, and it is the male fox Sly that guests smell when approaching the exhibit. Even though Sly is neutered, he still has a strong musk smell associated with male fox.
The fox are target trained meaning they have been trained to do certain actions based on a whistle command for Cleo and clicker for Sly. The fox are rewarded for responding to the commands with food and it helps keepers be able to weigh them, administer frontline medicine and more.