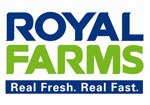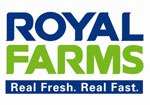 BALTIMORE, MD — September 12, 2011 — Today, the Royal Farms Convenience Store Chain donated a check totaling over $110,000 to The Maryland Zoo in Baltimore, proceeds from today's Second Annual Royal Farms Golf Outing held at the Rolling Road Golf Club in Catonsville.
Golfers had a bit of a surprise at check in this morning when, there to greet them, was an Animal Ambassador penguin and some other critter friends from The Maryland Zoo in Baltimore.
"We are honored that a company like Royal Farms, who quietly does good works in our community, has chosen The Maryland Zoo in Baltimore to receive this major gift," said Don Hutchinson, president/CEO of the Zoo. "Since all the residents at the Zoo will benefit from the generosity of golf outing participants and Royal Farms, we thought it would be fun for some of our Animal Ambassadors to be there at tee time to thank everyone personally."
This is second year in a row in which Royal Farms helped raise $100,000 or more for the community. Proceeds from the Royal Farms First Annual Golf Outing held last Fall were donated to the Hamden Family Center in Baltimore.
Royal Farms CEO John Kemp, said, "The people who really deserve the credit for these donations are our generous supplier community and other donors, and all the Royal Farms employees who work so hard to help put these events together."
Royal Farms, founded in 1959, serves the Mid-Atlantic area and currently owns and operates 134 convenience stores located in Maryland, Pennsylvania, Delaware, and Virginia.
They recently announced that their Dover, PA, store received LEED certification from the U.S. Green Building Council, and that all future buildings, when possible, will seek to receive LEED certification, including the 20 stores which are presently under application.