04/04/2023 04/04/2023 America/New_York El Valle Amphibian Conservation Center (EVACC) A Maryland Zoo Field Talk! Please click this link to join the webinar: https://bit.ly/3JUhZUF Virtual
In this Virtual Field Talk, we will "travel" to Panama to learn from Heidi Ross about the work of the El Valle Amphibian Conservation Center (EVACC Foundation) and conserving critically endangered Panamanian golden frogs.
No prior registration needed! Please click the link below to join the webinar or add this date to your calendar with the button above.
---
Virtual Admission
FREE

12:00 – 1:00 PM (EST) using Zoom webinar
---
More about featured speaker, Heidi Ross: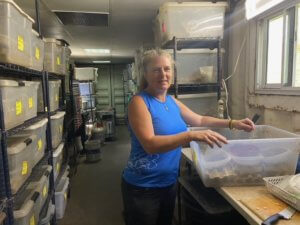 Originally from northern Wisconsin, Heidi Ross has lived in Panama for 23 years. She is the project director of the ex situ amphibian conservation project with the EVACC Foundation located in central Panama. EVACC has worked with more than 60 different amphibian species over the years, directly focused on 10 critically endangered species. Their lab space is directly inside the historical range of the Panamanian golden frog, making them uniquely connected to ecosystem and weather changes. Ross oversees all the invertebrate production for food and population genetics for the frogs, and attends to the day-to-day needs of both the frogs and insects.
---
Questions? Contact our education team by phone at 443.552.5300 or email education@marylandzoo.org.