See the Zoo like never before, virtually!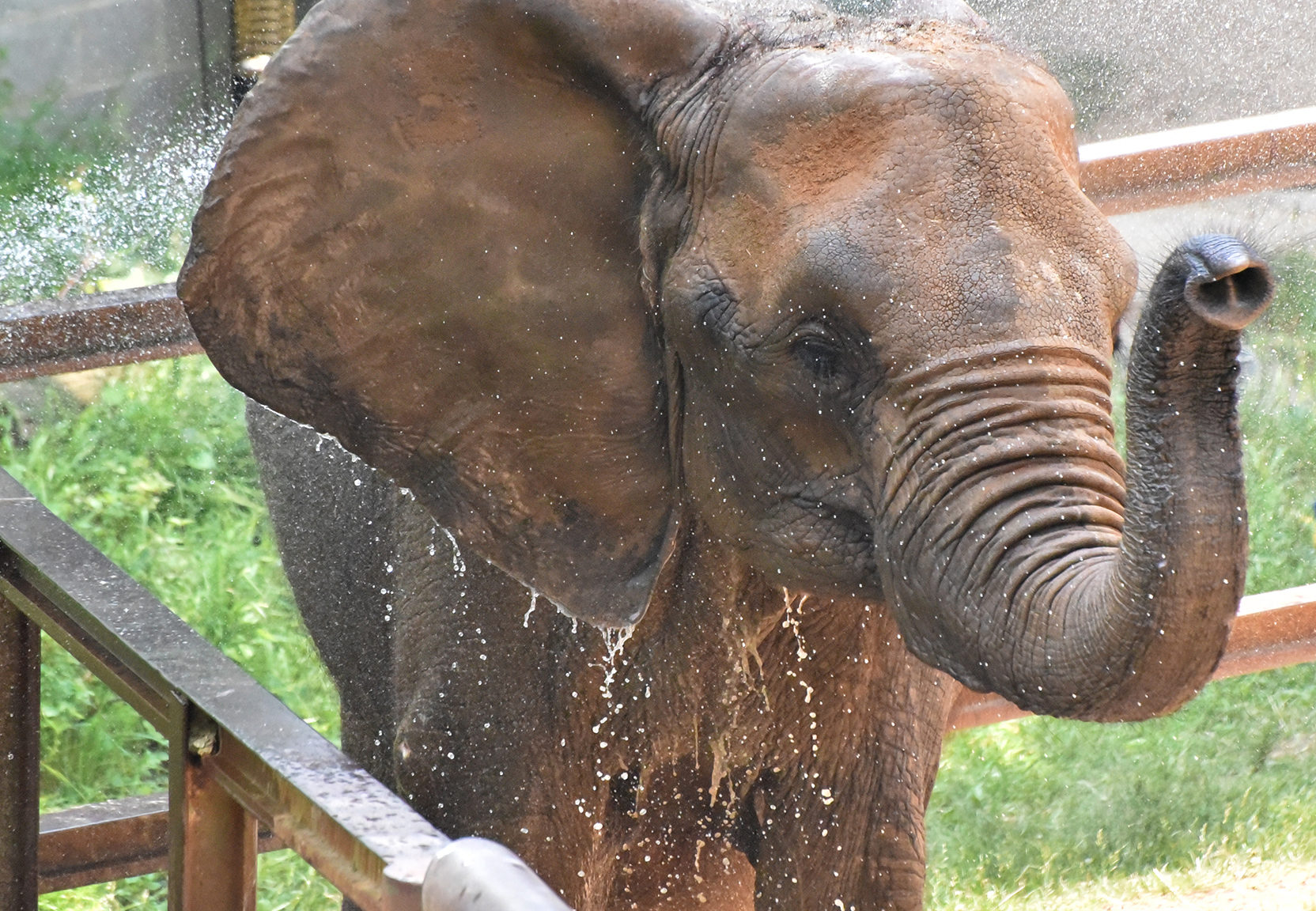 Have you ever wanted to venture inside the world of our African elephants and learn firsthand from their animal care team? Our dedicated elephant care staff will help you discover these secrets and more as part of a special Virtual Encounter at the Maryland Zoo!
"The Virtual Encounter yesterday was amazing! I cannot say enough good things about this experience. Even though we all miss seeing our zoo family in person, it was incredible to be able to see close-ups of Felix's ears and feet. Becca and Steve shared an incredible amount of information about Felix, the new elephant facilities, training, and elephant health. Felix of course stole the show – so beautiful and calm demonstrating so much of her repertoire. Thank you to everyone who made this experience possible!" – Kate E., Encounter Participant
VIRTUAL ELEPHANT ENCOUNTER INFORMATION
Join us on a Virtual Encounter with one of the Zoo's African elephants and members of their care team! The encounter takes place in a behind-the-scenes area of our newly renovated African elephant barn. During this private experience, participants will have the opportunity to ask questions LIVE about the animals, the care they receive, conservation efforts, and more. We welcome families, individuals, as well as groups such as schools, clubs, colleges, scouts, senior centers, libraries, or even as a special treat for the folks in the office!
Virtual Elephant Encounters are best suited for children age 5 and up, teens, and/or adults. Looking for a fun and engaging experience for children under age 5? We recommend checking out our Virtual ZOOmobile programs.
ENCOUNTER Times
Thursdays and Saturdays at 2:00 pm (ET)
ENCOUNTER Length
ENCOUNTER Price
---
IMPORTANT GUIDELINES & INFORMATION
Tickets & Scheduling:
Registration is required at least 72 hours in advance through our website. Payment is due at the time of registration via credit card. Registrants must be 18 years or older to purchase Virtual Encounter tickets.

Purchase of one (1) Virtual Encounter ticket is required per private session. Registrants will first need to select the preferred date and start time. Registrants with schools in Maryland should add "1" ticket to the quantity field for "MD school group". All other registrants should add "1" ticket to the quantity field for "Nonschool group".

Registrants are required to provide the number of children and/or adults attending the Virtual Encounter during registration.

We recommend keeping the number of participants per session low to provide a more interactive and personal experience, but we are able to see up to 100 viewers per private session.
Virtual Platform: The Zoo hosts Virtual Encounters using Zoom Meetings. We recommend that you familiarize yourself with the Zoom platform and test your account prior to your scheduled Virtual Encounter. Zoom Meetings information and assistance can be found here.
Participants can join the Virtual Encounter from a single room/device, from multiple rooms/devices, or they may log in individually on separate devices.

Ideally, all participants will have access to a camera and microphone (or the ability to use the chat feature) to ask their questions and interact with the Virtual Encounter hosts, but we know that may not be possible for everyone. No matter your circumstances, we will be flexible and do our best to ensure the experience is engaging for everyone.

The Zoo will send a Zoom Meetings link to the encounter registrant at least 72 hours prior to the encounter. The registrant is responsible for sharing the meeting link with their participants.
Security: The Maryland Zoo is dedicated to ensuring that all virtual experiences remain safe for participants. Virtual Encounters are private sessions. We never mix groups into a single session. Viewers will be given permission to activate their cameras and microphone and use the chat feature to make the experience interactive. The Zoo employs a number of measures to ensure the security of the virtual meeting space.
Communication:

Zoo staff will communicate with registrants only through official Maryland Zoo channels. Most communication will take place through email from either

tickets@marylandzoo.org

or

education@marylandzoo.org

.

Participant verification:

At the beginning of the Virtual Encounter, participants enter a waiting room. The hosting Zoo Educator will admit the registrant first (please make sure you add your name so we can find you easily). The registrant, or another delegated adult, is responsible for communicating to the hosting Zoo Educator if any of the participants do not belong.

Meeting settings:

All participants will enter the meeting muted. Participants will be given the opportunity to unmute and ask questions at specified times during the Virtual Encounter. Participants will not be able to chat privately with each other, record the session, share their screen, or share images in the chat. Virtual backgrounds will be disabled.

Managing inappropriate behavior:

The hosting Zoo Educator can and will mute and turn off the video of participants, or remove participants from the Zoom Meeting, if they are saying or sharing inappropriate things.
Recording: Video/audio recording of Virtual Encounters is not permitted. Participants are welcome to take pictures or screenshots.
Rescheduling: Reservations may be changed up to 72 hours before the scheduled Virtual Encounter and are subject to an Administrative Change Fee. Changes are not permitted within 72 hours of the scheduled Virtual Encounter. Contact us at tickets@marylandzoo.org or call 443-992-4585.
Refunds: Virtual Encounter tickets cannot be returned or refunded.
Cancellation: Virtual Encounters are weather, staff, and animal dependent. The Zoo reserves the right to cancel a Virtual Encounter or end a Virtual Encounter for any reason, including participant behavior.
---
QUESTIONS?
Call 443-992-4585 during normal Zoo hours or email tickets@marylandzoo.org.