Want to give the animal lover in your life a truly memorable gift?
The Maryland Zoo has some Zoo-perb choices for your special someone. From memberships and donations, to animal adoptions and unique behind-the-scenes tours, the Zoo has a gaggle of gift-giving options. Plus, every gift you purchase is also a gift to the Zoo. You can feel good knowing your gift will also be helping to support the Zoo's wildlife, conservation, and education programs. So whether you're looking to spend a little, or a lot, explore the herd of great gift ideas below or visit our Zoo Shop.
---
Memberships as Gifts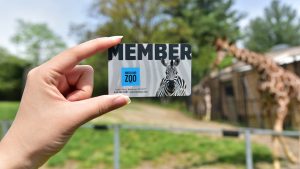 $65-$215
What better way to give than to give a gift that lasts all year long? Memberships can be purchased for families, individuals, seniors, even students. They also come with great benefits including (just to name a few):
Free admission to the Zoo for one year
25% off all guest tickets
Reduced admission to more than 130 zoos and aquariums nationwide
Discounts on special events, gift shop purchases, and more
---
Animal Adoptions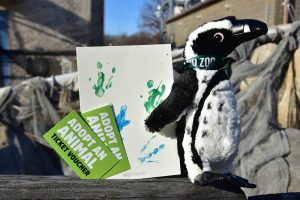 $75
Choose an animal to adopt and receive two (2) bonus tickets to the Zoo! These wonderful gifts go directly toward the care of the animal you select. Adopt an African elephant, polar bear, lion, giraffe, cheetah, African penguin or chose your own animal to adopt. Each animal adoption comes with:
An adoption certificate
An adorable plush of your animal
An official animal photo and fun fact sheet
Two bonus Zoo tickets valid for one year
---
Penguin Encounters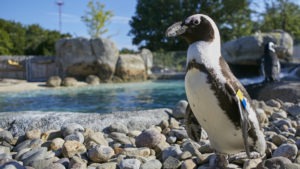 $49-$59
Get even closer to African penguins. Give them a chance to meet, photo and interact with the Zoo's penguin ambassadors in a special behind-the-scenes experience guided by an Animal Embassy keeper. These exclusive 20-30 minute tours happen daily and can be reserved in advance. Gift this one-of-a-kind encounter for the penguin lover in your life.
---
Breakfast with the Animals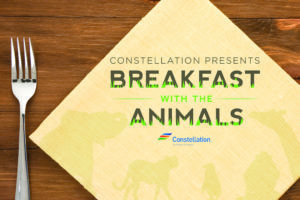 $55-$65
Our most popular events are back! Constellation presents Breakfast with the Animals, including breakfasts at Penguin Coast. These early morning VIP experiences give you the chance to dine alongside some of our most popular animals, including penguins, elephants and giraffes and more. Each features a special animal interaction. Special pricing for Zoo members. These breakfasts sell out quickly, so act fast!
---
Zoo Events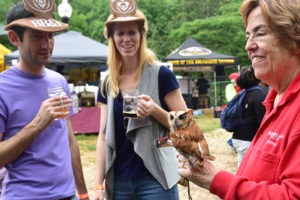 $ Based on event
From family overnights to yoga with penguins, there are Zoo events for every animal lover. Many 2018 event tickets are now on sale! Plus, Zoo events are not just a fun for you, ticket sales support the Zoo's wild mission, animal care and education programs, too.
---
Donations as Gifts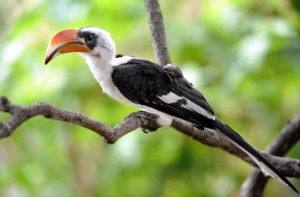 Any Amount
Support the Zoo and make a donation on behalf of someone special. Donations can be made in the name of any person you chose. It's a great way to make a lasting impact on wildlife in honor of someone you care about. Consider this great way to make a gift to both the Zoo and someone special to you. It's also tax-deductible!
---
Enrichment Items for the Animals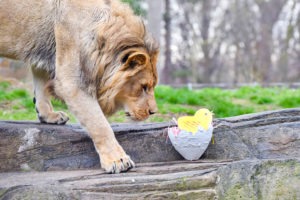 Varied Amounts
Give a gift to the animals on behalf of someone special. When you purchase an item off of the Zoo's Amazon wishlist and get the excitement of knowing you've given a gift that will be used by keepers to enrich the lives of the animals here in return. Image, a ball you buy could have the teeth marks of a lion in it in no time! These gifts are also tax-deductible.
---
Giraffe House Behind-the-Scenes Tour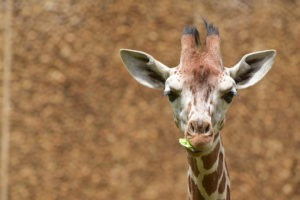 $ Based on group size
Go inside the Giraffe House to get up close with our reticulated giraffe and okapi. Tour participants get access to the keeper area and can possibly feed giraffe through the many viewing windows. These private tours can accommodate up to 10 people. Some restrictions apply.
---
Rhino Barn Behind-the-Scenes Tour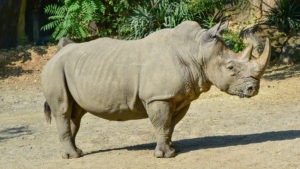 $ Based on group size
The Zoo's Rhino Barn is home to southern white rhino, common zebra, and ostrich. Guests will get a tour of the facility and watch as keepers perform training sessions with the animals. You may even get to feed one of the rhinos. Tours can accommodate up to 15 people. Some restrictions apply.
---
Penguin Behind-the-Scenes Tour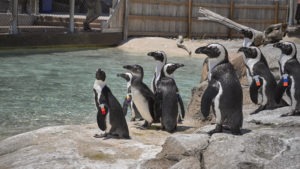 $ Based on group size
The Zoo's newest exhibit is Penguin Coast and this is your chance to go behind-the-scenes in this state-of-the-art African penguin habitat. Experience North America's largest and most successful breeding colony of African penguins like few have. Tours can accommodate up to 8 people. Some restrictions apply.
---
General Admission Tickets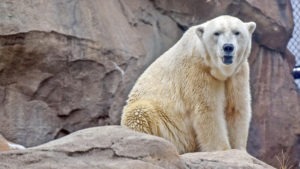 $15.00-$19.00 (or $10.00 Winter tickets)
The perfect gift for anyone (and everyone). Purchase general admission tickets good for one (1) year from the date of purchase. Both weekday and weekend tickets are available and can be printed at home. More than just tickets, you'll be giving them a fun and memorable day with the animals. Choose regular season tickets or purchase discounted winter season tickets for the animal lover on your list.
---
Zoo Birthday Parties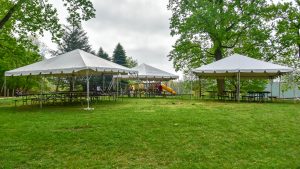 Varies by Size & Location
Celebrate your next big birthday at the Zoo. Choose from Zoo run or self-run party packages that are guaranteed to make wild memories for your special day. Schedule your 2016 date now to reserve space for that special someone.