Thank you for all your generous donations!
In September, we welcomed Maisie from the Oklahoma City Zoo after her mother failed to properly care for her. Although we did not hesitate to jump to her aid, this incredible opportunity is not without its own set of challenges. Caring for an infant chimp comes with significant expenses, including the costs of diapers, formula, and enrichment. Adding to that, Maisie requires 24-hour care, resulting in additional staff expenses. Maisie will be raised by our professional care team until she is able to begin being introduced to a surrogate mom within our troop. Read her full story here.
Thank you so much for your support during our Baby Shower Fundraiser for chimpanzee Maisie! It is with grateful hearts that we share with you that we exceeded our 50K goal, and have raised over $58,000 in donations. The fundraiser and Giving Tuesday are now over, but you can still support the Zoo's mission by giving below:
---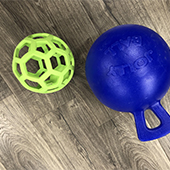 A $25 donation could buy…
Two enrichment items to help chimp Maisie build strength and coordination.
---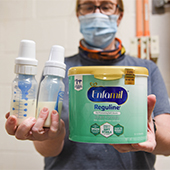 A $50 donation could buy…
Two weeks of formula. She is fed every three hours around the clock!
---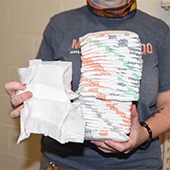 A $100 donation could buy…
A two-week supply of diapers. If Maisie were being raised by her mother she wouldn't need diapers. However, to help keep her and her Animal Care Team clean, Maisie will wear diapers until she is integrated into the troop.
---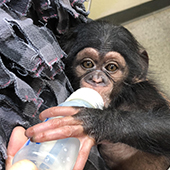 A $250 donation supports…
One night of overnight care provided by a Chimpanzee Forest Animal Care Team member.
---
Can I do more?
Making a gift is the most important contribution you can make, but there are other ways to help too…spread the word! Everyone loves animals, so tell your friends about the conservation work the Zoo is doing and encourage them to give today. One easy way to do this is sharing the Zoo's posts on Facebook.
---
Conserving great apes is one of the Zoo's core conservation goals. Chimpanzees are endangered and here at the Zoo they receive professional care while acting as ambassadors for their species. With your support, baby chimp Maisie will be hand-raised until she is ready to be paired with a surrogate mother and join our troop.
The Maryland Zoo in Baltimore is a 501(c)3 nonprofit and relies in part on donations to operate. Please make a fast, secure, credit card donation to the Zoo. Your contribution is also fully tax-deductible.