How can dogs help protect wildlife and wild places? By using their amazing sense of smell! Working Dogs for Conservation is a Montana-based nonprofit that rescues ball-crazy, high-energy rescue dogs for very specific work: conservation detection work. These dogs put their love of tennis balls and boundless energy to use. Their handlers train them to sniff out the scat of endangered species, invasive plants, and wildlife contraband in exchange for their beloved toys. Learn how WD4C's dogs have made an impact supporting the conservation of wild species from New Jersey to Costa Rica to Zambia.
Doors open at 6:30; talk begins promptly at 7:00 at the Mansion House Porch.
---
Tickets:
Member: $9 per person
Non-member: $19 per person
Zoo members, to receive your ticket discount you must first register on the Zoo's online store. Click below to register. Once you do, you'll automatically receive your discounts at checkout.
Did you know that Zoo members save $10 on tickets? To learn more about becoming a member of The Maryland Zoo, click here!
---
Additional donations on event night are encouraged to support the Maryland Zoo's involvement in conservation projects.
More about featured speaker, Kayla Fratt: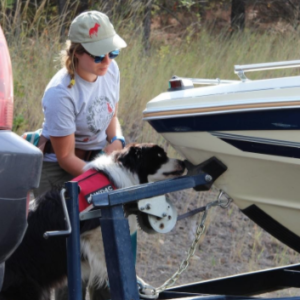 Kayla Fratt is Working Dogs for Conservation's Communications and Outreach Coordinator. Kayla has a background in animal training and ecology. She holds a degree in ecology from Colorado College and is a Certified Dog Behavior Consultant with the International Association of Animal Behavior Consultants. Kayla's main detection dog partner is Barley, a six-year-old border collie who is trained to detect several species of endangered mammal and invasive plants.