This special Field Talk will take you into the wild for a discussion of African penguin conservation efforts while you stroll around the Maryland Zoo's award-winning Penguin Coast exhibit at sunset. Jess Phillips, Area Manager of Penguin Coast at the Maryland Zoo, will speak about the status of the endangered African penguin in South Africa and Namibia. Learn what field experts are doing to conserve these majestic animals and how the Maryland Zoo is helping to support conservation efforts through its involvement with The Association of Zoos and Aquariums (AZA) Saving Animals From Extinction (SAFE) program.
Gates open at 6:30; talk begins promptly at 7:00 at Penguin Coast exhibit.
---
Tickets:
Member: $9
Non-member: $19
Zoo members, to receive your ticket discount you must first register on the Zoo's online store. Click below to register. Once you do, you'll automatically receive your discounts at checkout.
Did you know that Zoo members save $10 on tickets? To learn more about becoming a member of The Maryland Zoo, click here!
---
Additional donations on event night are encouraged to support SANCCOB.
More about featured speaker, Jess Phillips: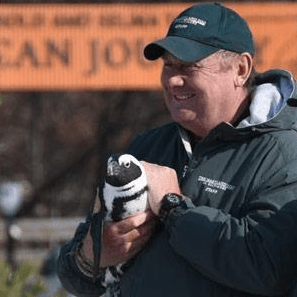 Area Manager of Penguin Coast & Africa Barn at the Maryland Zoo

Vice Program Coordinator AZA SAFE African Penguin Program
Coordinator AZA SAFE African Penguin Disaster Response Project
Jess is in his 8th year of working at the Maryland Zoo in Baltimore. Jess is the Area Manager for Penguin Coast which holds the largest colony of endangered African penguins in North America, with a breeding colony of close to 100 birds. The Maryland Zoo has had African penguins since 1968, and since then has bred over 1,000 chicks. The one-thousandth chick, Millie, hatched during the 2018-19 breeding season.
Jess also works with colleagues in South Africa and Namibia in disaster response work, which focuses on preparing for and responding to man-made or natural disasters such as oil spills that may affect African penguins and other endangered seabirds off the southwestern coast of Africa.
---
Questions? Contact our education team by phone at 443.552.5300 or email education@marylandzoo.org.
Sponsors